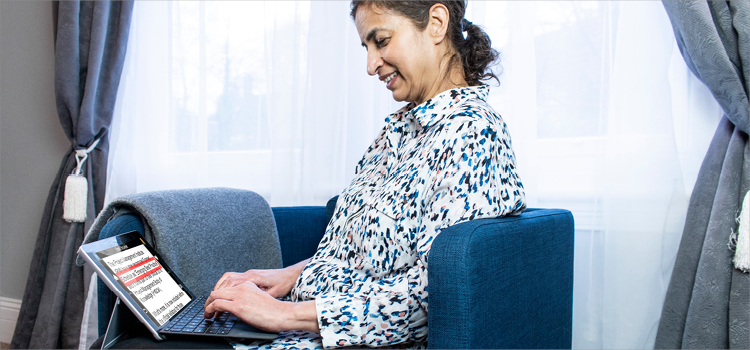 Sight loss affects people of all ages, but as we get older we are increasingly likely to experience sight loss. Almost 1.5 million people aged 65-84, and a further 580,000 aged 85 and over, are living with sight loss in the UK.

Assistive technology is one crucial way for older people to stay living well, safely and happily at home, yet they can be nervous to try new technology and quick to give up if it seems challenging to use.

Therefore, if you are working with someone with a recent diagnosis of sight loss, and you've supported them to choose a piece of technology that will help them in their day-to-day life – that might be just the start of their journey.

You might notice that the client might seem reluctant to start using the new accessible device or piece of software. This could be because they don't feel confident, or they might lack the help and support of family or friends, or they may even feel that learning something new is "just too hard".

So how can you help them overcome any computer-based anxiety and 'take the leap' with tech? Here are our top 5 suggestions to assist and inspire your senior with sight loss:

Set up and optimise their new device. This is a massive barrier for many people and can feel overwhelming. So, to ensure that they can get started as quickly as possible:

get their email address, Wi-Fi network key, pass code or finger print and any data transferred from any older device (or set up from scratch).
Make sure all accessibility options are installed, optimised and fully meet the individual's sight and preferences.
Introduce them to free websites and apps that make life simpler for visually-impaired users.

Inspire them to "have a go". Confidence is built on accomplishment. But the client might not be fully aware of what they can now achieve. Suggest they start using it as soon as they can:

If they have been feeling lonely, encourage them to email a friend.
If they have been feeling bored, recommend that they discover how to listen to a favourite book, or go online and "Google" a hobby.
If they have been feeling apprehensive about going out on their own, point them in the direction of accessible travel sites and help them plan out a trip.

Instigate regular communication. Keep in touch with them on their new accessible solution! Suggest that they join your mailing list. Or send them information on appropriate local services, centres and groups which might be useful, supportive or fun to join.
Enable quick access to support. You can't be available day and night, but most AT companies provide some type of support. Add their number to the speed dial. Some even offer free telephone training.
Congratulate them on being brave enough to try something new or difficult. They have made a huge step towards greater independence and freedom – this is worth celebrating and they should feel truly proud!
Did you find this useful? Then share with a colleague.