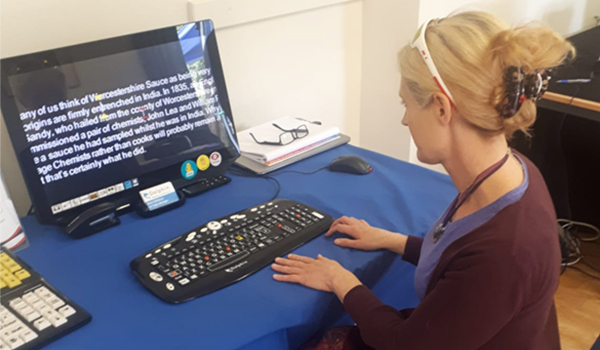 Ruth lives on the Isle of Wight with two grown-up children. Her sight condition is cone-rod dystrophy. Ruth first noticed a deterioration in her central vision when she was just 9. She stayed in mainstream education though, as she says "I just struggled through and used my friends".
Ruth was registered blind in 1998 and believes that because the deterioration was so gradual, she simply adapted and was able to manage well.
Ruth learnt to use a computer 25 years ago, taking her ECDL (European Computer Driving Licence) with Dolphin, using SuperNova Magnifier, and has been using SuperNova ever since.
Ruth now has 4% functional vision and, as her sight has changed, Ruth has evolved from being a magnification user to a Magnifier and Screen Reader user.
Not that her eye condition slows Ruth down! Ruth has been a volunteer for 20 years (and a trustee for 12). Having completed a degree at the Open University, she now volunteers there, helping students who are combining study with a full-time job.
Using SuperNova, Ruth performs research, types up interviews and helps people with transcripts. She also proofreads and writes tutorials for the staff. In addition, Ruth volunteers for the RNIB as part of the RNIB Connect team. Furthermore, Ruth runs the Island's Macular Support Group for which she is a trustee. Busy lady!
Although Ruth now has an iPhone and an iPad mini, she uses SuperNova every day on her computer, sending emails, managing her address book, doing online banking and the weekly supermarket shop - and running 3 Facebook pages! Ruth likes simultaneously using her iPhone and computer with SuperNova, as it means she can listen to the devices really quickly.
Ruth loves the read back feature in SuperNova and the flexibility to access the control panel easily. And she thinks the new voices are much better – Serena is her favourite!
Says Ruth "I think SuperNova is great! I use it every day and it is essential to my volunteering activities and home life. SuperNova grew with me as my eyesight deteriorated – I would recommend it to anyone".