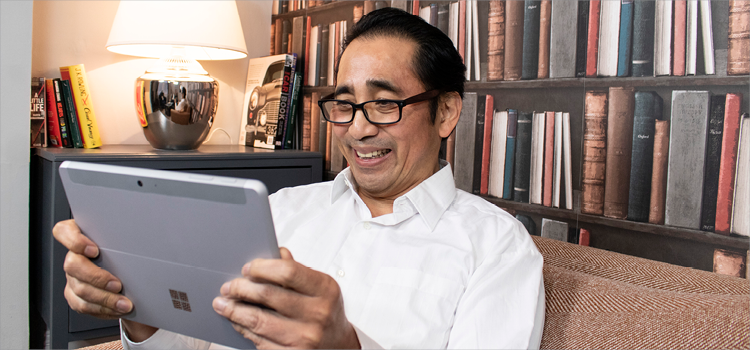 According to the RNIB "every day 250 people start to lose their sight in the UK. As of 2015, more than two million people in the UK are living with sight loss that is severe enough to have a significant impact on their daily lives, such as not being able to drive".

Clearly, as we get older one of the main conditions that can affect us is problems with eye health. Sight loss can be frightening and confusing at first and this sometimes leads to self-isolation or depression, particularly if combined with other age-related health conditions.
In addition, senior people might find their social circle shrinking, which can result in a feeling of loneliness that might compound their physical problems and mental health issues. It is important to understand that there is lots of help and support out there - which can have a really positive impact on wellbeing, communication and mental health - as well as guidance on how to deal with the practical and medical aspects of sight loss.
Assistive technology can help people adapt to their changing sight requirements, and there are lots of options available, even for those with no previous experience of computers. Complete this simple questionnaire and we will help you identify the technology to help empower people experiencing sight loss to regain their confidence and continue to live life to the full.

When a person is initially diagnosed with a visual impairment, they might feel afraid about how this will affect their day-to-day life. If they still work, they might wonder how they will be able to continue doing their job. If they are retired, they may feel travelling will become an issue and that they might become isolated at home.

Obviously, technology can provide a wide range of solutions to help people with a visual impairment get online, connect to family and friends and continue to live their everyday life as naturally as possible. But what if, in addition to their diminishing sight, they don't feel confident with technology?

If you work with or support people recently diagnosed with sight loss, we can help you assess their needs and capabilities and begin to explore their technology options.
Download the simple questionnaire and work through it with any individual recently diagnosed with a visual impairment. If you need any help in the meantime, or would like further information on any Dolphin assistive technology products, please contact our friendly team at info@yourdolphin.com