Dolphin is thrilled to welcome Anthony Ferraro to the Dolphin Blog.
You may already know Anthony from one of his social media channels, as @asfvision where his upbeat videos explain how he completes tasks as a blind person. You may know him from his podcast 'four bad eyes', his music, or his many sporting achievements which include an early wrestling career, Team USA Paralympic Judo achievements, and hair-raising skateboard antics.
It's fair to say that nothing seems to hold Anthony back and his super-positive attitude always shines through as something we can all enjoy and learn from. For this blog, we asked Anthony to tell us what assistive technology means to him.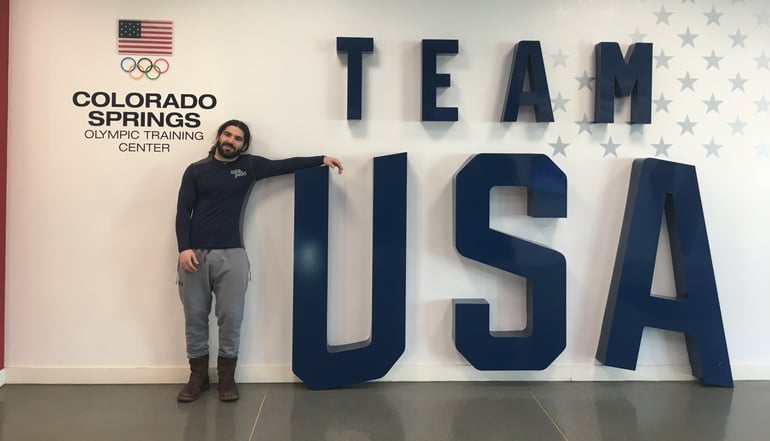 Hi my name is Anthony Ferraro
I like to make videos for social media that usually start with the phrase, "I'm blind, this is how I..." Why is this relevant or even important to you? Well, I was born blind and technology didn't always give me the freedom, inclusion or increased ability that it does today. Not only can others in the blind community learn from my journey, but so can builders and makers of tech products, as the world continues to expand from a technological perspective.
I'm going to cover my experience with assistive technology, and what it means to me as a blind individual who found a career utilizing the tools surrounding tech.


Freedom and Independence
There have been so many times in my life when I was forced to depend on the help of other - sighted - people to accomplish even the most simple task. I attended a school for the blind until 7th grade and the year I integrated to the public school system. I went from being surrounded by other blind classmates to being the only blind person in the entire school.
While at times this was an overwhelming feeling, with the use of assistive technologies such as Braille embossers, screen readers on computers and eventually cellphones, I experienced a new-found freedom and independence that I had never imagined before.
It wasn't necessarily a simple step to scan regular documents for my assignments into the computer for it to be returned in Braille, but the fact that this technology existed in the first place gave me the feeling that I could do everything my peers were doing, with a little extra help.
The difference between having a computer do the translating versus a sighted individual reading the assignment to me made me feel like I was completely independent and could thrive on my own.
I'll never forget the day I got my first flip cellphone and was able to hit the number sign button to have it read out the message. Although there were some lack of advances at the time and it only read the message to me and not who it was from, I felt extremely free to have the ability to hear the messages, even if I had to guess who they may have come from!
Technology has grown so much over the years to the point where I can do almost everything a sighted person can do on the cellphone, because of these advances in accessibility settings.


Inclusion
Freedom and independence also translate directly to inclusion. It would have been really difficult for teachers to communicate with me when I transitioned to the public school from the school for the blind if I didn't have the ability to utilize technology to be included in the first place.
One of the most incredible things I used to feel included was called the Braille note. This piece of technology made me feel like I could listen and take notes and be able to easily read them back to myself in an accessible way. I could write notes in class like every other kid and refer back to them when it came time to study for an exam. This made me feel completely included, even if at times I would try and hide the fact that I had to write everything in Braille from my fellow classmates.
As classrooms advanced and computers were more prevalent I began to utilize a screen reader to help me navigate the different applications and interfaces of the computer. This felt like it took more training than my friends had to experience to use a computer, but once I got the hang of it I was completely included in the same types of learning assignments as everyone else.


Increased Ability
As the use of assistive technology continued to advance over the years, it granted me freedom and inclusion as well as giving me an increased ability overall. I could use a cellphone because of the native accessibility settings, but also app developers had to comply with ADA regulations. For the most part they began making those individually accessible to screen readers as well. This opened up an entire new world for me. I could now scroll on social media! Even though I couldn't see pictures or images, I had a piece of technology in my pocket that would do its best to describe to me what was happening on the screen. I could now participate and interact and didn't feel like I was being left behind. Although at times it was quite frustrating to realize a new update forgot to include the update for screen readers.
I started making content for the internet myself and learned how to record music. Building a career with the internet now didn't seem out of reach, even to someone like me who couldn't see what was going on.
I had an increased ability to now become a creator myself and could start putting not only music but videos explaining how I interact with the world online, with the hope of encouraging and help others who may be in a similar situation.


Accessible technology is technology for everyone
Now that we have expanded on some of the different ways assistive technology has impacted my life, my hope is that this is only the beginning of expanding the world for the blind community.
Maybe you have a future in creating technology myself and others will use someday or perhaps you will be an end user and eventually benefit from expansions on accessible technology products. No matter what boat you are in it's critical to remember that giving someone the gift of freedom, inclusion and overall increased ability is a wonderful contribution to the world we're living in.
At the end of the day, accessible and assistive technology is technology for everyone - and that is a beautiful thing. Thank you for taking the time to explore this topic with me today.
As I like to end all my videos online and also my writing: "One love"!