What is the European Accessibility Act?
The European Accessibility Act (EAA) of 2025 is a landmark piece of legislation that will require self-service kiosks and other technologies to be accessible to people with disabilities.
The EAA was originally adopted in 2019. It has been ratified again by the European Union (EU) to include more specific guidelines for modern technologies. The EAA will come into force on 28th June 2025, and each country within the European Union is expected to create more specific legislation for their respective nations.
Businesses that already offer a product or service through self-service kiosks will be granted extensions for compliance - if requested - up until June 2030. However, new products and services will be expected to be compliant from June 2025.

Key products and services impacted by EAA legislation
eCommerce

Streaming services

Restaurants

Hotels

Digital books
Telephone services

Computers and operating systems
---
Kiosk accessibility standards
The EAA is a significant step forward for people with sight loss, it will provide them with the ability to interact independently with all types of self-service kiosks. These kiosks are becoming increasingly common in public places, for people to use to find information, make bookings, obtain tickets, interact as consumers etc.
The EAA will also help to promote independence and inclusion for people with all types of disabilities. These people might not otherwise be able to use the kiosks that don't meet accessibility guidelines.
The EAA has outlined specific features which a self-service kiosk must include, to guarantee accessibility for people with sight loss. These include:
Providing tactile feedback

Using large fonts and high-contrast colours

Avoiding the use of blinking or flashing lights
---
The EU sets an example for accessibility
The United States, who was thought to be leading the charge to improve accessibility, has not yet passed legislation to include kiosks or other self-service technology in the Americans with Disabilities Act (ADA). This act was passed in 1990 - before self-service kiosks and the majority of common digital technology existed.
While ADA does not specifically set forth guidelines for making self-service kiosks accessible, it does require businesses to provide reasonable accommodations to people with disabilities. So, while Americans wait for the ratification of ADA, the current language could be interpreted to include making self-service kiosks accessible to people with sight loss or any other disability.
As it stands, the EU ratifying the EAA has now become a global model for initiating and passing legislation quickly. It sets the expectation that all industries using self-service technology to deliver products and services are required to include people with disabilities.
The EAA is truly a step forward for people with sight loss, and it is hoped that other countries outside the EU - like the UK, USA and Canada - will follow suit.
---
Create an inclusion-minded business today
In preparation for compliance with legislation, there are several things that businesses can do if they use self-service kiosks to deliver their products and services:
Have an accessibility audit done by Level Access to ensure web and digital content meets WCAG guidelines.


Integrate accessibility improvements into your future development cycles



Schedule conformance and user-testing of your kiosk

There are also easy changes you can make now that have an immediate impact on your customers' experience if they are blind or partially sighted:
Provide training for staff on how to assist people with sight loss

Make sure your self-service kiosks are located in well-lit areas
Provide clear and concise instructions on how to use self-service kiosks

Offer alternative payment methods if automated payment methods are not yet accessible
By taking these steps and considering how you can improve your customer experience for people with sight loss or any other disabled customers, your business will become more accessible for everyone and you help promote inclusion for all.
---
Connect with the Dolphin Kiosk Team
Kick off your kiosk accessibility project with a free consultation.
Book a meeting with Dolphin accessibility experts and your own stakeholders for a confidential discussion, where we can share information and talk about the scope of your project, along with pricing.
Dolphin Kiosks benefits:
Supports remote access and can be centrally managed

30+ languages supported with correlating text-to-speech

Includes true touchscreen magnification and screen reading

No pass-through access required

Optional independent conformance testing by Level Access

Support for Storm Assistive Technology Products (NavPad™, NavBar™ and AudioNav™)

Customized scripting available
---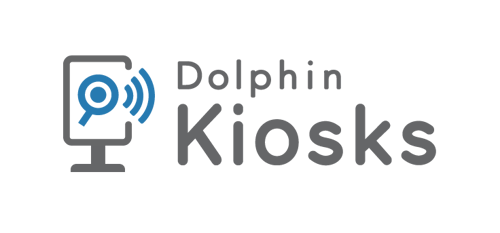 Find out more about Dolphin Kiosks
Choosing the accessibility layer for your kiosks that considers the needs of all your customers is a win for your brand and provides your business with legal protection.
Dolphin Kiosks provides customers with the choice of magnification, screen reading, or a combination of both. This ensures your customers are able to interact with your kiosk in a way that is accessible for them.
---
More about the European Accessibility Act
You can read the European accessibility act in full, or watch the short video below from the European Commission (in English), which explains the directive and its benefits to disabled people.