Assistive technology plays a key role in empowering people with sight loss in the workplace.
Organisations that introduce and continue to provide assistive technology show they recognise the contribution employees with visual impairments make to their team. Making assistive technology available to the staff that need it shows your organisation is progressive, considerate and supportive of its workforce's accessibility needs. It means all employees with visual impairments can reach their full potential at work.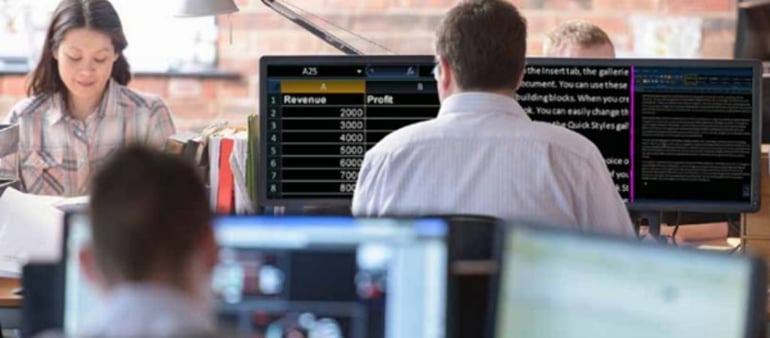 This article explores how assistive technology is used by employees with visual impairments, and shows how technology enables users with sight loss to remain productive at work.
Are you a disability confident employer?
Disability Confident committed employers such as Dolphin Computer Access can vouch for the value that people with sight loss bring to a business. However, statistics over the last few decades show unacceptably low levels of employment for people who are blind or partially sighted, and these levels continue to fall.
In the UK, only one in four people of working age who are registered blind or partially sighted are in employment (RNIB, 2019) This statistic is mirrored throughout the world. In the USA, 70% of working-age adults with significant vision loss are not in full time employment (NFB, 2019), and in Canada, 73% of people with sight loss are unemployed (CNB Foundation, 2019).


"The fact is that in the twenty-first century workplace, people who are blind are just as able to do a job as anyone else. They just need to be given a chance and proper accommodation. They know the deck is stacked against them. They work harder than others and they end up being more effective workers."

David Grinbery, Equal Employment Opportunity Commission
As modern employers, organisations have a legal and moral obligation to be part of a solution that enables people with visual impairments to contribute to the workforce. We are sure that if questioned, most organisations believe - and are keen to express - they are equal opportunities employers. Business leaders and employers stress that they are open to and encourage applicants with disabilities - including visual impairments - to apply for any advertised roles.
The statistics tell us a different story though. So, what might be the reasons that people with visual impairments aren't commonly employed?
Is there a lack of knowledge and understanding about how organisations can support people with visual impairments at work, so they can do their job well?
Is there a lack of information about assistive technology which would level the playing field for colleagues with visual impairments?
Do companies see software solutions as too expensive, or too disruptive to internal systems?
Are you stuck trying to figure out who is responsible for implementing assistive technology in your organisation?
It is worth considering what might happen to your current employees if they lose their sight. Will they still be able to make the same important contributions they make now? How about hiring new staff? Ensure you don't discount candidates with excellent potential because they have a visual impairment.
It goes without saying that people with sight loss are as capable, bright and educated as anyone else and can become a real asset to any business. It can be significantly more challenging for people with sight loss to find opportunities for employment. This doesn't need to be the case.
---
8 ways assistive technology helps employees with sight loss at work
Assistive technology is defined as any device, software or equipment that helps people work around any challenges or disabilities they have - these might be cognitive or physical.
Assistive technology provides equal access to information, tasks or activities and it helps people communicate, learn and function better at the task in hand. If you've ever used a spell checker or an on-screen calculator, you've used assistive technology!
For people who are visually impaired, the assistive technologies most commonly used in a work environment are screen magnifiers and screen readers.
Here are eight ways that assistive technology helps people with visual impairments to be more productive in the workplace:
1. Screen magnification for well-defined focus

Screen magnifiers enable people who are partially sighted view the contents of a computer screen clearly. This technology means team members can zoom in to documents, emails, spreadsheets, web pages and bespoke applications, to view them with precision.
With a screen magnifier, text remains smooth and sharp, thanks to options for enhanced text smoothing and contrast. A combination of high-contrast colour schemes, large mouse pointers and focus-highlighting options ensure team members with sight loss can view their screen comfortably. Screen magnifiers also automatically track the current focus, so employees with sight loss can type text and explore the screen without losing their place.
As well as providing essential screen access, screen magnifiers enable team members with visual impairments to improve productivity at work. The technology is compatible with a range of devices with support for Windows desktop PCs and laptops. Products such as Dolphin SuperNova also include intuitive access to touch screen devices, such as touchscreen laptops and tablets.
Support for multiple monitors also means team members can multi-task with ease. Employees can magnify different applications on different screens or magnify one application across multiple screens. Users may also benefit from different magnification levels and colour schemes set independently on each screen. It is also possible to deliver presentations in an original size font, while viewing the presenter notes with magnification.


2. Text-to-Speech – for audible reading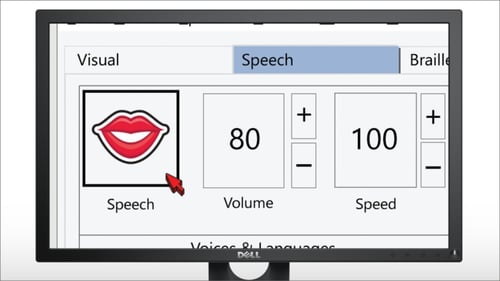 Text-to-speech is ideal for employees with progressive sight loss, or where sight levels fluctuate throughout the day.
With text-to-speech, team members can listen to text from documents, emails, webpages or other applications. It's spoken by an electronic (though natural-sounding) voice and may be read a character, word or line at a time, or read as a whole document. People with sight loss can also hear the text read aloud as they type.
In SuperNova - as with all of the options available - text-to-speech can be turned on and off at the click of a button, or using a shortcut key, so it's available when the user needs it.


3. Complete screen reading - identifies more than just text
While text-to-speech enables people with partial sight to listen to text, a complete screen reader supports access to Windows applications for team members who are blind.
Users are able to identify whether text on the screen is bold, underlined or italic. They can hear whether a checkbox is ticked, and can explore web pages and applications using a virtual cursor.
Screen readers also enable team members who are blind to work more productively. Text is announced clearly - even at the highest of speeds – which enables people who are blind to retain information with incredible efficiency. Screen readers also makes it easier for the user to find information on web pages or in applications. Quick navigation keys are available to help users instantly find links, buttons, edit fields, checkboxes and most other elements on the screen.
4. Support for refreshable Braille displays to help with multitasking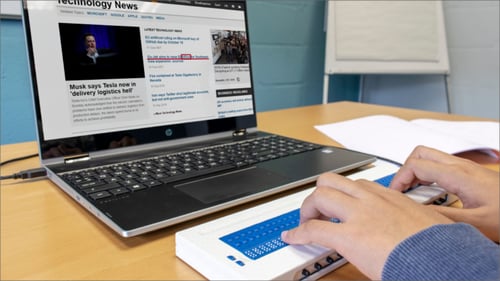 As well as announcing text on the screen with a natural sounding voice, screen readers also enable team members who are blind to both read and write using Braille.
Screen readers support a wide range of refreshable Braille displays – Dolphin SuperNova supports over 60 displays from leading Braille manufacturers.
Braille displays relay information from the screen through refreshable cells, so as the user moves to the next line of text, the cells adapt to show the information in Braille.
There are many advantages to reading with Braille in the workplace, compared to using speech alone. Braille enables people who are blind to understand spelling, grammar, punctuation and how text is formatted on the screen. Accessing the screen through Braille also means people who are blind can multi-task more effectively than if they were using speech alone. At Dolphin, colleagues who are blind talk to customers over the phone at the same time as reading and recording information from our CRM system using Braille.
5. Connect a camera or scanner to read print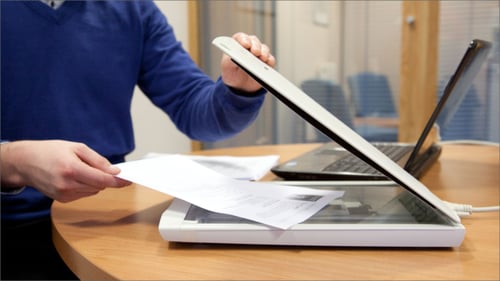 While it is far more productive for employees with sight loss to access information electronically, there are times where correspondence is only available in print. In those instances, there are a multitude of ways that assistive technology can help.
People with partial sight can connect a document camera to their screen magnifier and screen reader software. The text from the camera can then be magnified on the screen using the employees preferred choice of magnification and colours.
Screen magnifiers and screen readers also include Optical Character Recognition (OCR). This allows text from either a document camera or a flatbed scanner to be recognised and read aloud. This is then viewed and read aloud either in its original layout, or in a text-only layout.
6. Productive access to mainstream and bespoke applications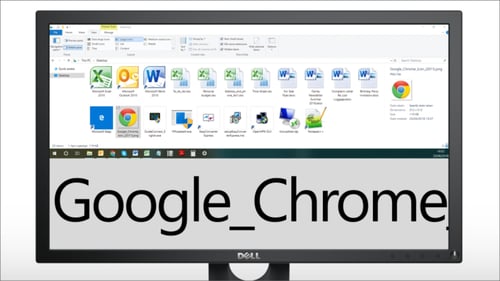 For most desk-based employees to succeed at their job, it is essential that they access a range of computer applications.
Screen magnifiers and screen readers have been developed to support hundreds of applications. This includes Microsoft Office applications for documents, emails, spreadsheets and presentations. It covers web browsers such as Google Chrome, Firefox and Microsoft Edge and works with video calling apps like Microsoft Teams or Zoom.
Screen magnifiers and screen readers have also been developed to support custom cloud and client-based applications. These may be used in any sector and include bespoke CRM and ERP systems. While many applications are supported out of the box, companies such as Dolphin offer mapping and scripting services to ensure all team members can access bespoke computer systems.
7. Flexible deployment that moves with your employees
Technical Services Managers can be assured that screen magnification and screen reading technology has flexible options for deployment based on your requirements.
This tech can be purchased and deployed onto a single workstation, multiple stations or even to your entire network, using MSI installers.
If you would prefer not to install the technology across the network, there are options to purchase a USB version of a screen magnifier or screen reader. USB versions offer employees with sight loss instant magnification on any PC, without the need to install drivers. Employees effectively carry their assistive technology around with them - along with their preferred accessibility settings.
Enterprise editions of screen magnifiers and screen readers are also available for organisation using Citrix, VMWare or remote desktop environments. For example, SuperNova Enterprise is the only magnifier or screen reader to be verified by Citrix as Citrix Ready® and certified by SAP® for Integration with SAP NetWeaver®.
8. Technical support from assistive technology experts
To ensure team members with sight loss remain productive, assistive technology is delivered with comprehensive after-sale support. If you need assistance to install or deploy software, or if a team member needs help to get the most out of the tech - help and advice is available from a knowledgeable team. At Dolphin, we are extremely proud of the expertise in our support team - many of whom are blind or partially sighted themselves. Our team is extremely knowledgeable in the use of assistive technology including screen magnifiers and screen readers.
---
Together we can re-write the narrative
Given the opportunity and the tools to succeed, people with visual impairments are just as - if not more - productive than employees with full sight. Screen magnification and screen reading technology can assist team members who are blind or partially sighted, to help them succeed in their current and future roles in your company.
It doesn't matter whether your organisation employs five or five-thousand people - the assistive technology industry is here to provide flexible and fully-supported solutions for all people with sight loss.
Now more than ever, organisations are able to discover the talent, creativity and enthusiasm that people who are blind and partially sighted can bring to their business. Be a leader in your sector and challenge attitudes and behaviour by introducing positive change to your company culture.
Visit the SuperNova for Organisations pages at the Dolphin website for more information and to download a free trial.
---
About Dolphin Computer Access Ltd.
Dolphin delivers world-leading assistive technology for people who are blind or partially sighted. Our products help anyone experiencing sight loss to live independently at school, at work and at home.
Dolphin SuperNova empowers users with visual impairments to succeed at work. It is the world's first combined screen magnifier and screen reader, which enables people with sight loss to get the most out of Windows PCs, laptops and tablets.

SuperNova is available in four editions, to suit a range of sight levels:
Find out how Dolphin SuperNova can help you support the team members with sight loss in your business.
Call our team on 01905 754 577 or email info@yourdolphin.com
---
References