Whether reading for leisure or learning, the ability to read opens a world of possibilities. For people with a print-based disability, accessible reading apps provide ways to read printed text, so more people can enjoy reading.
In this blog we explore how people who have a print impairment can read in comfort with accessible reading apps like Dolphin EasyReader.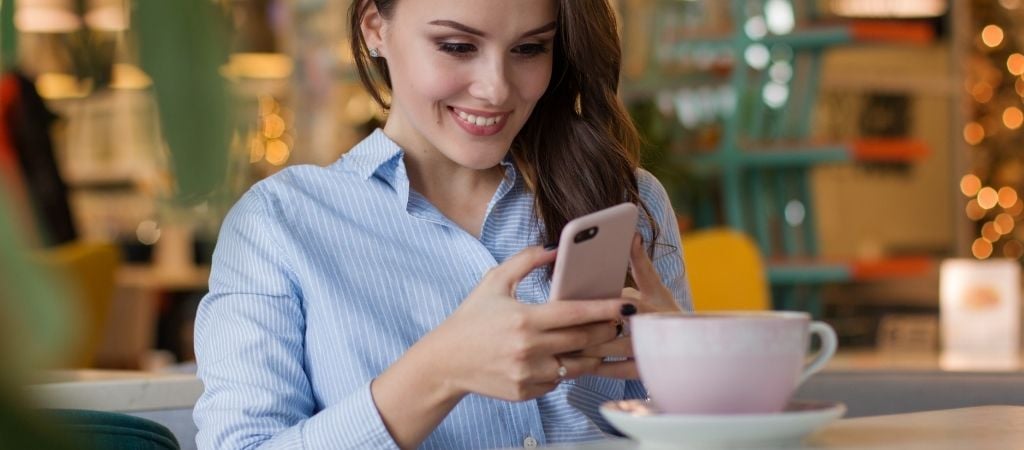 Who benefits from accessible reading apps?
Anyone can benefit from accessible reading apps, though they are particularly useful for people who have a print impairment. By definition, a 'print impairment' refers to difficulties with reading print-based materials effectively. This might be the result of:
Visual impairment - such as blindness, partial sight or low vision
Learning disabilities - such as dyslexia
Neurodiversity - such as Autistic Spectrum Condition or Attention Deficit Disorder
Physical disability – that makes holding a book or turning pages difficult
Accessible reading apps offer a range of options, all designed to enable people who have a print impairment to read in comfort, so they can enjoy reading and retain information effectively.
---
5 ways accessible reading apps benefit readers



1. Reading apps provide direct links to accessible library services
Accessible reading apps open up access to millions of books through accessible libraries. These ensure that reading material is accessible in ways that benefit the reader and any additional needs they may have,
Accessible library services are established around the world to provide accessible titles for people who have a print impairment. They provide thousands of titles in an accessible format, including the latest bestsellers, non-fiction titles, textbooks, newspapers and more. These services are available to serve individuals and specifically people who have a print impairment.
Examples of accessible libraries:
Bookshare (US)
CELA (Canada)
RNIB Library (UK)
RNIB Bookshare (UK)
Calibre Audio (UK)
Legimus (Sweden)
And many more around the world.
With the latest accessible reading apps, it's easier than ever for people who have a print impairment to make the most of these services. Dolphin EasyReader provides access to more than 40 accessible library services around the world, plus talking newspaper and magazine services.
Visit the Dolphin website for a full list of the accessible library services available in EasyReader App worldwide.
2. Accessible reading apps make text comfortable to read
Accessibility can mean very different things for different people. A particular combination of colours or text font can make text instantly accessible for one person, but it could make the text even more difficult to view for another.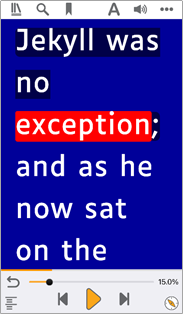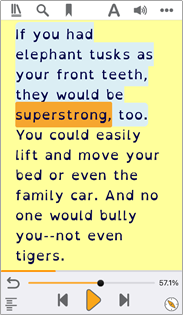 Accessible reading apps provide a number of options that help people with a print impairment to make the text comfortable to read, based on their individual needs. For example, Dolphin EasyReader enables users to:
Increase and decrease the size of the text quickly and easily.
Users can set a specific size in the text settings, or can change the text size quickly on a touchscreen using pinch to zoom. When increasing the size of the text, EasyReader wraps the text, so it stays easy to view. The lines of text won't stretch over the edge of the screen.


Choose from a range of sans serif fonts.
As well as a range of well recognised fonts, EasyReader also includes the 'OpenDyslexic' font. This font includes enhanced weighting on the lower parts of the letters, which can help people who have dyslexia to distinguish each character. EasyReader also includes the Tiresias font, which has been designed by RNIB to increase the legibility of characters for people who are visually impaired and Luciole typeface

which is a new typeface developed explicitly for visually impaired people

Adjust the line and letter spacing.
Simple adjustments to the line and letter spacing can go a long way to improve the legibility of the text.
Customise the colours on the screen.
EasyReader includes a range of pre-set colour themes. These include high-contrast themes designed for people who are visually impaired, plus lower-contrast themes which can help to reduce glare for people who have dyslexia or Irlens Syndrome. In addition to offering pre-set themes, EasyReader also enables users to choose their own text, background and highlight colours, so everyone can find a combination that makes reading comfortable for them.



3. Listen to text read aloud with text-to-speech (TTS)
Lots of people benefit from having text spoken aloud - the rise in popularity of audiobooks is a testament to this. Reading audibly can be very useful, especially when multi-tasking or enjoying an audiobook whilst in transit. For people with a print impairment, the primary benefit of hearing text read aloud is much more than a convenience – it's the difference between the title being accessible and not.
Research shows possible links between listening to text while reading it visually and improvements in reading levels, vocabulary and comprehension, for people with a print-based disability. If you're interested to find out more, we've included links to some useful research papers in the further reading section at the end of this blog.
EasyReader App can read aloud both audio and text-based content.
Audiobooks in DAISY and MP3 formats are supported.
If a title is text-based, EasyReader includes high-quality text-to-speech voices to read the text out loud as and when needed.
The speed of the voice for both audiobooks and text can be increased or decreased. This means anyone with a print impairment can read at a pace that is comfortable for them.
In addition to reading the text in a book, EasyReader also reads any alt-text descriptions that have been added to images. This is particularly important for understanding the contents of diagrams, graphs, charts and more. It's an important accessibility feature for people with visual impairments.
4. Reading modes that help with focus
Accessible reading apps include options that help users focus their attention on the words as they are read. Here are a few examples:
Word highlighting – for word recognition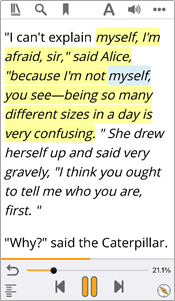 When reading text-based content, EasyReader highlights each word as it is read aloud by the voice. This strategy can help users to recognise each word as it is read out loud.
Lines visible – to focus attention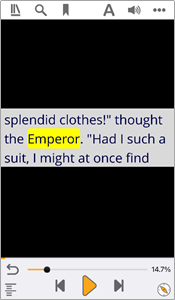 The latest version of EasyReader now includes a 'Lines Visible' option. This allows users to choose how many lines of text are visible on the screen whilst you read. Focusing attention on just a few lines of text can really help people with a print impairment to avoid distraction and retain information.
Finger reading – to decode tricky words
This option enables users to have individual words read back to them. Double tap (or double click) on any word and EasyReader reads it back. This is useful for helping users to recognise and decode words that they find particularly tricky
5. Navigate books with ease
One of the great advantages of accessible, electronic content is that it is far easier to navigate than print-based materials. Accessible reading apps help to make the most of this, providing tools to help people with a print impairment find their place and navigate the text. With Dolphin EasyReader, users can:
Pick up where you left off
EasyReader remembers the reading position for every book loaded, so users never have to sift through to find their place

.

Skip forward and backward
Next and previous buttons skip by sentence for text-based books, and by 30 seconds for audio books. This is ideal for re-reading a sentence you didn't understand or skipping through the current section of a book.
Search for a word or phrase
EasyReader lists all instances of a word or ph

r

ase as you are typing. Simply tap on a result to skip straight to it

.

Add bookmarks
Users can add as many bookmarks as they like to a book in EasyReader. Skip straight to any bookmark quickly and add text or audio notes.


---

Enjoy reading what you want, how you want
Now you're aware of some of the many ways accessible reading apps help people with print impairments to enjoy reading.
By exploring the ways accessible reading technology enables reading - through text adjustment for comfortable viewing, by reading text aloud for accessibility or to aid understanding - you're more aware of the options available to help users focus and navigate books.
All these options are here to serve a purpose: to enable people who have a print impairment to enjoy reading what they want, how they want.
If you have a print impairment, or if you work with students or support clients who do, take time to explore the accessible library list and the features and benefits of EasyReader App. Open a world of accessible books from your smartphone, tablet or computer, and rediscover the joy of reading.
---

About EasyReader App
EasyReader is an accessible reading app designed to make reading a pleasure for people who are blind, partially sighted or have dyslexia. It provides direct access to the world's largest collection of accessible book and newspaper services.
The EasyReader App is available free on iOS, Android and Kindle Fire. It can also be purchased from the Microsoft Store for Windows computers, laptops and tablets.
Find out more about Dolphin EasyReader.
---
Further Reading
A list of recommended resources that demonstrate the effectiveness of using text-to-speech for learning: