Sassy Wyatt is a Disability awareness consultant and popular award-winning blogger. Her blog Thinking Out Loud is written with humour and honesty and covers her life, experiences and disability awareness - including invisible and mental illness.
Sassy also hosts the Purple Elephant podcast, in which she discusses ableism, prejudice and misconceptions with her guests, to encourage everyone to open the dialogue on topics we generally shy away from.
We're delighted to welcome Sassy to the Dolphin blog, to talk about what assistive technology means to her.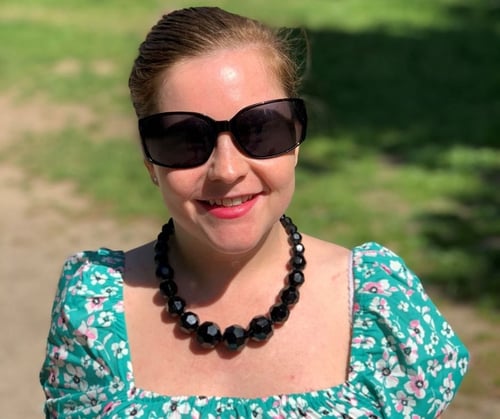 As my fingers dance across the keyboard and I navigate and reply to my emails; I'm just like everyone else, caught in the frenzy of work life balance and never ending to do lists. But there's a slight difference between myself and most working people my age: I'm completely blind and using my technology without being able to see the screen with my eyes.
I wasn't born blind, but by the time I had started my GCSE's I was registered blind and this is where my journey with assistive technology begins.
IT skills were a main component of my generation and computer literacy was important for my education and beyond. As each month passed, my face was getting closer and closer to the computer screens in school and I could only see the whiteboard if I was at the front and the teacher wrote in the darkest colour.
Meeting my QTVI (qualified teacher for the visually impaired) for the first time, I was blown away that if screen enlargement and screen reading software was installed onto a computer or laptop, I no longer had to strain my eyes to complete my work.
Dolphin SuperNova was the gateway into a world of technology I never knew existed.
I knew touch typing was an impressive skill, but I hadn't realised this was how blind and visually impaired people used computers.
The combination of my newly-acquired skills in touch-typing and SuperNova screen magnification meant I could access online materials, complete assignments and chat with friends on MSN. Yes, I was THAT generation!
---
By the time I reached university, I was reading my many coursebooks with the text-to-speech feature. This not only gave my eyes a much needed rest, it allowed me to read textbooks quicker than most of my coursemates.
In 2013, I was in the middle of my degree as my sight failed me. At this time I was using an iPhone 5. I slowly transitioned from the extreme magnification side of assistive technology and traversed a new world of text-to-speech. Going blind was tough in every sense of the word but assistive technology literally saved my life.
I called and texted my friends from my hospital bed, I scrolled through Twitter and emailed my university lecturers on my own, because I had assistive technology at my fingertips.
---
If you've ever heard me talk on stage or read any of my blogs, I forever state that going blind in the 21st century is the best time to lose vision.
The expansion of assistive technology has made me the independant, confident blind person I am today. My laptop and phone were my lifeline, connecting me to reality when the rest of my world had become a literal barrier.
In 2021 assistive technology - particularly in the forms of apps designed for the blind and visually impaired - allow me to be exactly who I want to be. Using apps like Moovit, Soundscape, Seeing AI and SelfieX, I can jump on the bus into town to run errands, meet a friend at a cafe and peruse the menu, and even take a cheeky selfie for the 'gram independently. These apps didn't even exist when I lost my sight, and I thought technology back then was amazing!
If you're new to sight loss, assistive technology and need a helping hand - Be My Eyes and AIRA are superb - they connect you to a sighted person who can support you in all of the tasks I've mentioned above.
I feel blessed to be blind in todays era, and if this global pandemic has taught us anything, it's that assistive technology is a disabled person's secret to success.
---

Sassy Wyatt is the award-winning author of the blog 'Thinking Out Loud - the ramblings and anecdotes of a girl with a disability'.
Here she covers topics including blindness, mental health, travelling with a disability, plus hacks and resources.
An advocate for disability confidence, Sassy's social media content is an often humourous take on the challenges faced by others' misconceptions of being blind. In her videos on YouTube and TikTok, Sassy challenges stereotypes, offers practical advice and answers questions.
In Sassy's podcast Purple Elephant she and her guests discuss and deconstruct ableism, prejudice and misconceptions, to open the dialogue on topics that are generally shied away from.
---

About the SuperNova Range
Choose SuperNova for magnification and screen reading you can rely on, in education, at work and at home.
SuperNova is available in four editions, to suit a range of sight levels for home and work settings:
Dolphin also offers SuperNova packages - SuperNova software on a laptop or desktop PC, with accessories such as large print keyboards, scanners and cameras. These are set up, tested, delivered and are ready to use straight from the box.
Find out how Dolphin SuperNova can help you, call our team on 01905 754 577 or email info@yourdolphin.com