Mark Abel is an administration assistant at a national healthcare provider in the UK. He works as part of a team providing high-standard administrative support to healthcare personnel.
Mark's sight loss was sudden and is caused by bilateral optic neuropathy, with a background diagnosis of multiple sclerosis. Mark now has some vision and for the last ten years, he has used SuperNova Magnifier at work to complete daily tasks. These include magnifying spreadsheets, completing forms, viewing diagrams and reading emails and documents. At home, he uses SuperNova to pay the bills and shop online, book holidays or look at family photos.
"As soon as I started looking at it and using it, I thought 'I can do anything!"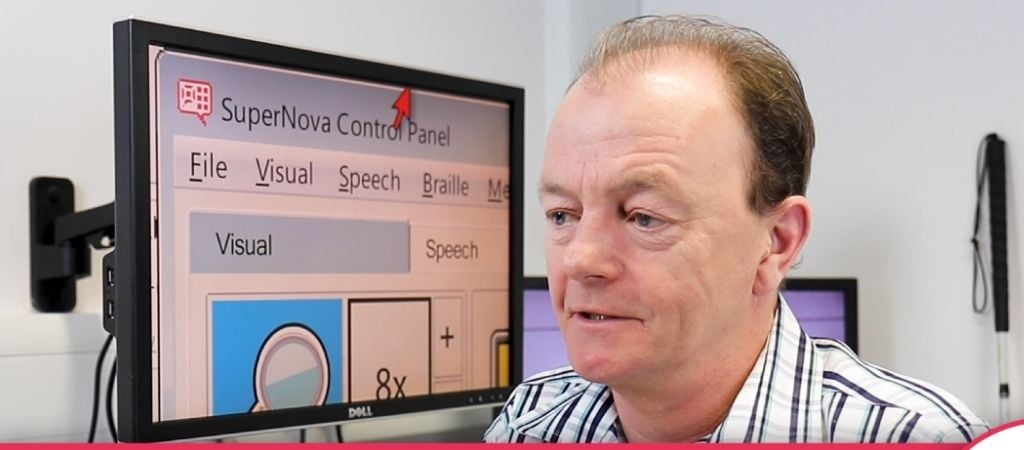 ---
Transcript of the Dolphin interview with Mark Abel
My name is Mark Abel. I work as an administrative assistant at a large healthcare provider, I deal with data, spreadsheets, receiving telephone calls and general administration duties.
I have bilateral optic neuropathy. My sight loss happened quite suddenly - from having good vision to having no vision. I now just have a little bit of vision.
Knowing I couldn't go back to the job I did before, I had to have some sort of re-training. Following some training sessions with the charity Blind Veterans UK on Dolphin SuperNova and by ringing up the Help and Support desk at Dolphin, I became quite IT savvy.
I use SuperNova Magnifier & Screen Reader. It gives me the ability to use computer system like any other normal person. Whether it's having the speech function read emails back to me or reading an internet page aloud. It also gives me the magnification facility to zoom into any pictures and diagrams that I want to look at.
I use the speech facility a lot, usually for reading large documents. There is a neat function on there that highlights the text that you're reading at the time. So if you're interrupted, you can pause where it's reading and it leaves that word highlighted, so you can come straight back to the position you were in before.
I'm not deskbound to where I am, so I have a SuperNova USB which allows me to access SuperNova on any computer.
I have found that the Support desk team at Dolphin very helpful. They're at the end of a telephone and will ring you back with the answer to help you solve any issues that you've got.
I first got SuperNova in 2011. I've just completed another NVQ level 3 qualification in Business and Administration. I think if SuperNova was taken away from me today, I couldn't go and work because I haven't seen anything else out there that can do what it does for me.
---

About the SuperNova Range
Choose SuperNova for magnification and screen reading you can rely on.
The SuperNova range of assistive technology empowers people who are blind or partially sighted to succeed at work, at home and in education.
SuperNova delivers a combination of magnification, speech and braille for Windows tablets, laptops and desktop PCs.
SuperNova suits many different types of visual impairment and is available in three editions. These enable users to choose a suitable combination of magnification, colours, speech and braille to suit their vision.
Dolphin also offers SuperNova packages that include SuperNova software set up on a laptop or desktop PC. These are set up, tested, delivered and are ready to use straight from the box.