We are delighted to welcome Yahya Pandor to the Dolphin Blog. During lockdown Yahya started making TikTok videos together with his brother Isa, to engage and educate people about what it's like to live with a vision impairment.
This led to a huge following on TikTok and other channels, where their humorous approach is used to educate people about sight loss, answer common questions and show how blind people are able to complete everyday tasks independently.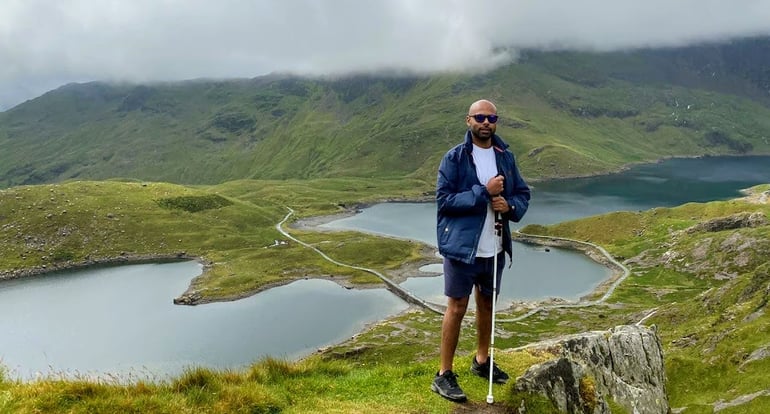 Yahya has been blind for two years, after losing his sight to a variation of macular degeneration. He is a qualified counsellor and also runs an agency that provides counselling and mental health support.
We asked Yahya what accessibility means to him:
What accessibility means to me
As a blind person, a lack of accessibility can be a real pain. I mean, sure, I can appreciate the audible traffic signals, textured pavements and the raised dots on the lift buttons, but come on, is that all I get? Sometimes, I just want to run across the street without having to listen for a beep, or awkwardly fumble trying to find the spinning cone at the bottom of the button box!
In all seriousness, accessibility is so important. Without it, I'd be stuck at home all day, listening to audiobooks and trying to figure out how to use my screen reader to play minesweeper. (My record is under 5 seconds, and I have the screenshot to prove it!) Life as a blind man can be really frustrating without it.
The importance of screen reading
A screen reader is an essential accessibility tool for people like me. It allows blind people to access and use technology, to participate in the digital world.
As a blind person, the technology I use every single day is Dolphin Supernova Screen Reader. It's like having a personal assistant - except instead of reminding me to buy milk, take out the bins, or feed the cat (I may be a tad forgetful as a person) - it reads me the text from my computer screen and thankfully it doesn't judge me for my taste in music!
A screen reader is way better than trying to use a computer without one. That would be like trying to find a needle in a haystack, except the haystack is on fire and you're blindfolded!
However, accessibility is important for everyone, not just for people like me. It allows us to fully participate in society and have equal opportunities to succeed.
Most importantly, SuperNova Screen Reader is a lifesaver. Without it, I'd be lost, wandering in a desolate place without access to information or even people. Or, I'd be trying to figure out how to play on-screen solitaire by feel!
Advice for designers and developers
So, if you're a designer or developer, work on creating more accessible content and technology. Remember to consider the needs of screen reader users and find out more about the tools we use. It can make a huge difference in the lives of blind people.
Hey, I listen to a robotic voice tell me what's on my screen, I guess I can live with that - I know there are lots of ways to tailor the voice - but why can't I have a Bugs Bunny option? It would make daily work so much more fun!
To all the designers out there, making and building websites and making technology more accessible, thank you. You may not realize it, but you're making a big difference in the lives of people like me. For that, a big well done and a gold star. Keep up the good work!
---
About Dolphin SuperNova
SuperNova provides complete access to Windows computers for people who are blind or partially sighted.
With exceptional magnification, screen reading technology and braille support, you can rely on SuperNova to enable you to explore your computer screen and read in ways that suit your own vision.
Whatever your level of sight - today or in the future - you can rely on SuperNova to help you succeed at home, at work and in education.