If you work at a school, and support children to read, you may have identified various ways the pupils you support struggle to access books on the curriculum. This may be due to vision impairments, sight loss, dyslexia and other neurodivergent conditions such as ADD, ADHD or autism.
If you think that some children in your school might benefit from accessible textbooks - school books that can be read in different ways such as larger text, different colour fonts or audible formats - then RNIB Bookshare together with the Dolphin EasyReader app can really help.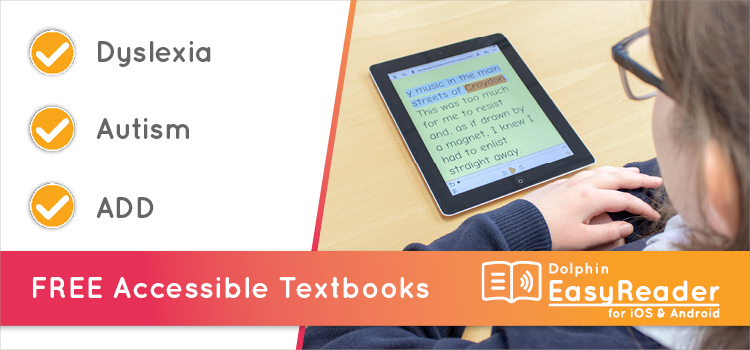 The Dolphin EasyReader App is free, and available on iOs, Android and Fire devices. EasyReader helps readers access books and other reading material such as newspapers and magazines. It has customisable settings that reduce difficulties some pupils experience when reading printed material.
These print-reading difficulties may be caused by visual impairments or a range of neurodiverse learning needs. Dolphin EasyReader works with the RNIB Bookshare Education Collection to provide accessible books for free, so children with visual impairments or neurodiverse learning needs will miss out on access to books.
About RNIB Bookshare
RNIB Bookshare Education Collection is a free education collection for students in the UK. It is provided free for eligible students by the RNIB and has real benefits for many learners. This is perfect for - but certainly not limited to - readers experiencing sight loss, those with vision impairments or who are blind.
Students can also use the library if they are not able to effectively read print due to dyslexia or other cognitive learning disabilities such as autism, or ADD. Or if a physical disability prevents them from holding or using a printed book.
Find out more about eligibility for RNIB Bookshare
---

About Dolphin EasyReader
Dolphin EasyReader is an accessible reading app that supports students who are blind, partially sighted, dyslexic or print-impaired to access and enjoy books from the world's largest collection of accessible book libraries. This includes thousands of accessible textbooks from RNIB Bookshare.
Available on iOS, Android, Fire and Windows devices, the combination of talking technology with customisable display settings for text, colour and reading speed means EasyReader is a pleasurable and comfortable way to read.
Dolphin EasyReader is free, and it helps users get the best from RNIB Bookshare and other accessible book libraries and talking newspaper services. EasyReader can be downloaded free from the Apple App Store, Google Play Store and the Amazon App Store. It can be used on a wide range of devices, including mobile phones and tablets.
---
Assistive Technology for Education
If you work with children or adults who are visually impaired - or you are a member of any of the following groups - please contact our team. We will be able to advise you further on assistive technology that can benefit the young people you work with.
Higher Education

Sensory Support Team

Local Authority

Adult Learning Centre
If you would you like to find out more about the assistive technology products from Dolphin that can benefit learners, please get in touch with our team at info@yourdolphin.com or call 0190 754 577.
We also run informative webinar series that provides information and advice on assistive technology for schools, colleges and universities.