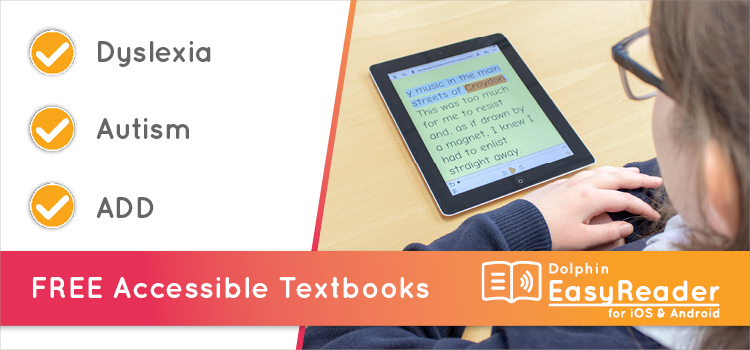 If you have identified ways that the students and pupils you support struggle to access the curriculum - and think that they might benefit from accessible textbooks - the RNIB Bookshare together with the Dolphin EasyReader app can help.
The Dolphin EasyReader app will help reduce difficulties which some pupils might experience when reading printed materials, whether this is caused by visual impairments or neuro diverse learning needs - and it works with the RNIB Bookshare Education Collection - a library that offers talking eBook editions of thousands of textbooks - for students of all ages.
RNIB Bookshare Education Collection is a free education collection for students in the UK. It is provided free for eligible students by the RNIB and has real benefits for many learners. This is perfect for - but certainly not limited to - readers experiencing sight loss, with vision impairments, or blindness. Students can also use the library if they have a cognitive learning disability, such as:
Dyslexia
Autism
Attention Deficit Disorder (ADD)
Find out more about learners who can use RNIB Bookshare
In addition, EasyReader from Dolphin is the world's most accessible reading app. It enables users to download books, enlarge text and add audio to text-only titles.
Dolphin EasyReader is free, and it helps users get the best from RNIB Bookshare. It is available in the AppStore and can be used on a wide range of devices, including mobile phones and tablets.
If you would you like to find out more and you support students or pupils with additional needs, or you are a member of any of the following:
SENCO
DSA
HE
sensory support team
local authority
adult learning centre
Then register for our FREE webinar 'Free Accessible Textbooks for Students with Disabilities' on Tuesday 4th June 2019 at 3.00 pm by using the button below: