Guest blogger, Connor Scott-Gardner is a writer, podcaster and disability rights advocate and an an avid reader and lover of audio books! In this blog he tells us how technology has helped him access more book libraries and how audio formats make a difference to readers who are blind.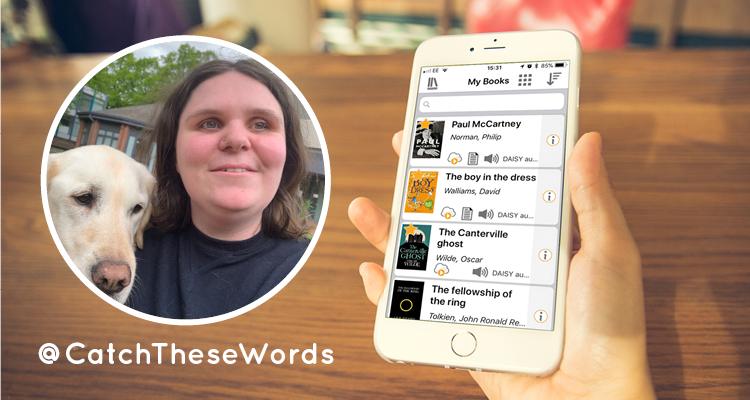 ---
How audio books improve access for readers with visual impairments
"As far back as I can remember my life has revolved around books. When I was a child I would eagerly await deliveries of heavy volumes of braille in the post, relishing the distinctive crackle of Velcro as I pulled open the bags they were stored in. A new book meant a new world to explore.
I was sustained on a steady stream of library books and the audio books my family bought for me but at times I lamented how few books I could read. So few were available in braille or audio and I sat on the sidelines as friends shared new discoveries I didn't have a hope of reading.
Technology and Accessible Reading
These days, blind book lovers are able to access far more titles than ever before. Thanks to the popularity of Kindle and other eBook platforms we can read almost anything that sighted people have access to. I have dipped in and out of books on subjects from astrophysics to twentieth century history, and read a staggering number of romance novels. If I have a topic I'd like to explore, the chances are I will find something in a format that I can access.
So one of the biggest struggles I face now is deciding what I want to read and how I'd like to read it. The RNIB Talking Books Service has a vast number of audio books, including many of my childhood favourites such as Harry Potter. I was recently inspired to read the series again and have enjoyed flying back through time to a world which gave me so much comfort as a child. If I want to read a classic I only have to look as far as Project Gutenberg where you can find literary joys such as Little Women and Alice's Adventures in Wonderland.
How I read as a person without sight
I still read in braille, making use of refreshable braille displays and eBook catalogues instead of hard copy texts, which aren't particularly practical to carry around. But it is my love of audio books that has really been helped along by technology. I use the Kindle or iBooks apps for reading content I've purchased, and Voice Dream Reader for playing MP3s or books I have saved.
However, most impressively with a phone, a handful of book libraries and the Dolphin EasyReader App I now have access to thousands of books in my pocket. EasyReader can be used to read books from accessible libraries, including RNIB bookshare, RNIB's newspaper service and a multitude of international libraries for people with print disabilities. It is extremely easy to use and completely accessible, as it has been designed with blind and visually impaired people as the primary audience.
---
How to use the Dolphin EasyReader App
Once you download the app and create a free Dolphin account, you can select the libraries you would like to be featured on the menu. This is useful if, like me, you have subscriptions to some of them and would like the others to be hidden. Log in to the libraries to which you have a membership and begin to browse.
In addition, when playing books, EasyReader also gives you you lots of options to customise playback - such as changing how you navigate through books, whether the app plays a sound to notify you of a bookmark, and the speed of audio playback. I've found changing playback speed particularly useful as, sometimes I want to enjoy an audio book at its regular speed, but other times my goal is to read a text as quickly and efficiently as possible.
I'm really enjoying the app as it consolidates many of the most popular accessible libraries into one convenient package. EasyReader has definitely been a game-changer and it's enabled me to access libraries that I wasn't making much use of before.
Long gone are the days when I felt sad that I couldn't read all the books I wanted. Now I am faced with the pleasurable dilemma of having more than I know what to do with."
---
About Connor Scott-Gardner
Connor Scott-Gardner is a writer, podcaster, disability rights advocate and postgraduate student in the field of social and public policy at the University of Leeds.
His blog Catch These Words covers a wide range of topics, from advocacy and activism through to books and life as a blind person. You can also listen to Connor's podcast Working Blind where he interviews other blind people about their careers, successes and the difficulties they have experienced.
---

The Dolphin EasyReader App
An accessible reading app, Dolphin EasyReader supports people who are blind, partially sighted or dyslexic to access and enjoy books from the world's largest collection of accessible book libraries.
Available as an app from the Apple App Store, the Google App Store and on Amazon App Store. EasyReader can be accessed on iOS, Android and Fire devices - it is also available as a built in feature on all Dolphin SuperNova editions.
The combination of talking technology with customisable display settings for text, colour and reading speed, means EasyReader is a pleasurable and comfortable way to read.