Attitudes are more positive when you introduce GuideConnect!
Typically, in addition to learning basic computing skills, people with sight loss have to learn to use assistive technology as an add-on. It's a perfect storm that keeps new users underneath the threshold of success - but GuideConnect is a game-changer - it's easy to use and simple to learn.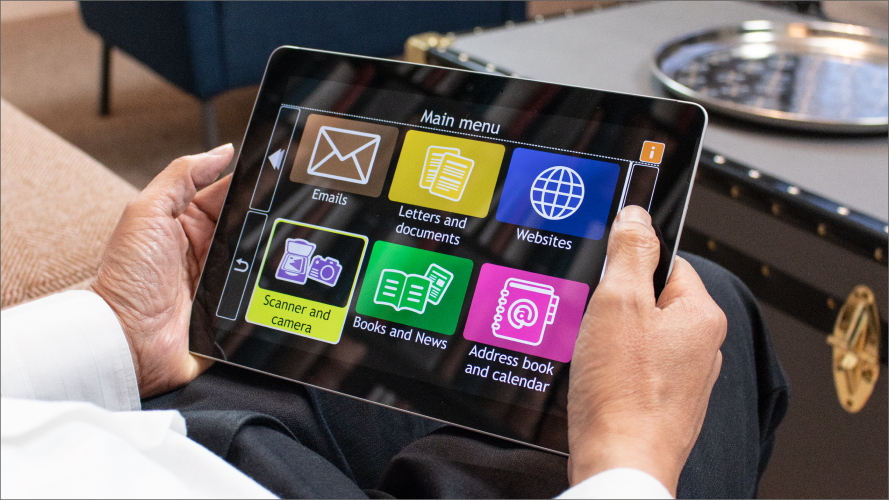 As an assessor, trainer or professional working in assistive technology, you may have heard the words 'it's too hard' and 'I give up' from your clients. With GuideConnect, clients find the software more engaging. They find they can do things easily and this boosts their confidence and ultimately their independence.
If your clients are older, are losing - or have lost - their vision, or they weren't really tech-savvy to begin with, it can be frustrating to learn new skills, especially computing skills. Finding ways to show them how GuideConnect can help them communicate and tackle everyday tasks is key.
---
What do you want to be able to do on the computer?
The key to success is asking your clients the fundamental question: 'what do you want to be able to do on your computer?' and after listening to their initial answers, start with those tasks.
The top answers we get are:
Send an email
schedule an appointment
browse the internet
read a book or newspaper
write a letter
magnify or convert printed materials (like paper mail)

All of these things are easy to do with GuideConnect. It has simple talking menus that guide users through. There are no complicated controls or shortcuts, and the screen and voice settings can all be customised to the individual user, for their sight requirements.
What separates GuideConnect from the other technology available for people with visual impairments is that it is universally designed and places users in a controlled environment.
This means that when users start up their computer, GuideConnect starts up at the same time. It then circumvents the Windows desktop, placing them in the GuideConnect environment and provides them with a fixed list of common computing tasks to choose from.
Accessibility is built-in and it is always there to support the user. They never have to learn how to use assistive technology, it's just there, and it's simple to use.
"Dolphin's GuideConnect does a really good job of making the computer a more useful device for the new user, or for someone who doesn't need all the bells and whistles. For anyone wondering if there is an easier way to learn to use a computer or to get back to it with assistive technology, GuideConnect is well worth a look!"

AccessWorld, 2020
---
American Foundation for the Blind featured GuideConnect in the June and July issues of AccessWorld
We can toot our own horn about GuideConnect every day - all day long - but you'd probably rather listen to the experts.
If you're interested in learning more about GuideConnect from the point of view of the American Foundation for the Blind, you can read the two recent articles about GuideConnect that feature in AccessWorld:
Dolphin GuideConnect - Accessible Computing Made Simpler

Published monthly by the AFB, AccessWorld is a magazine with corresponding web articles that provides 'objective information you can trust, smart and informed commentary, and cutting-edge news, product reviews and trends concerning information technology and visual impairment'.
---

Dolphin GuideConnect is an easy to use, fully-accessible computer programme that enables people with sight loss to access entertainment and ways to communicate.
Available on a range of devices, you can choose which suits you best. GuideConnect can be used on a Windows computer or laptop, a tablet or on your TV screen using a special Dolphin remote control.
GuideConnect has simple, step-by-step menus so users can can make video calls, type or dictate emails, visit web pages, scan and read letters, read talking books, listen to radio stations and much more.
There are lots of ways to discover GuideConnect. You can book a GuideConnect demonstration with Dave Salisbury, our GuideConnect trainer. Or try GuideConnect for 30 days with our free, trial period.