As an assessor, trainer or professional working in assistive technology, how many times have you heard those words from your clients?
Especially your clients who are older, losing or have lost their vision, and weren't terribly tech savvy to begin with. It's frustrating to learn new skills, specifically computing skills. Then, pile on the fact that typically, in addition to learning basic computing skills, they have to learn to use assistive technology separately, as an add-on. It's the perfect storm that keeps new users underneath the threshold of success. GuideConnect is a game-changer for those clients.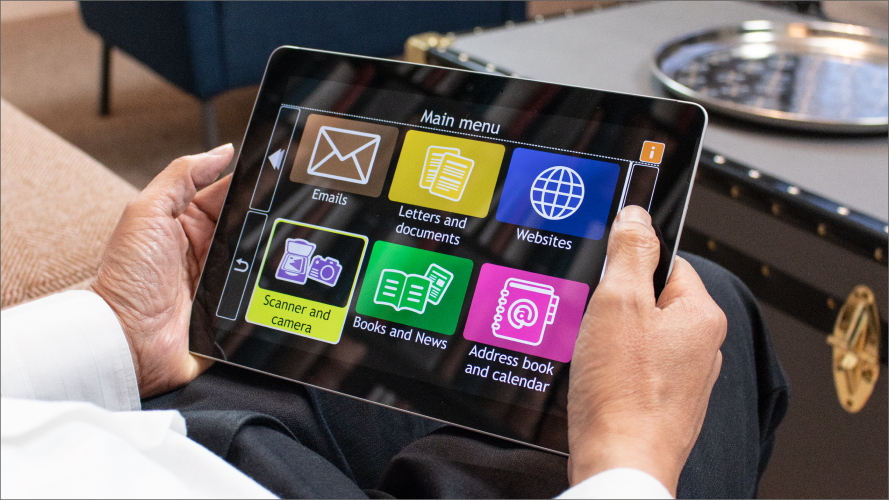 What do you want to be able to do on the computer?
Asking your clients that fundamental question and listening to their initial answers, and then starting with those tasks, is the key to success. Sending an email, scheduling an appointment, browsing the internet, reading a book or newspaper, writing a letter, magnifying or converting print materials (like paper mail) might be some of the top answers. What separates GuideConnect from other technology available for people with visual impairments is that it is universally designed and places users in a controlled environment. What that really means…when users start their computers, GuideConnect starts, it then circumvents the Windows desktop placing them in the GuideConnect environment and then provides them with a fixed list of common computing tasks to choose from. Accessibility is built-in, invisible and always there to support the user. They NEVER have to learn how to use assistive technology, it just IS.
American Foundation for the Blind—Features GuideConnect in June and July Issues of AccessWorld
We can toot our own horn about GuideConnect every day, all day long but you'd probably rather listen to the experts. If you're interested in learning more about GuideConnect, here are links to both issues of Accessworld:
"Dolphin's GuideConnect does a really good job of making the computer a more useful device for the new user, or for someone who doesn't need all the bells and whistles. For anyone wondering if there is an easier way to learn to use a computer or to get back to it with assistive technology, GuideConnect is well worth a look!"
Dolphin GuideConnect—Getting Started: https://hubs.ly/H0rl5n90
Dolphin GuideConnect—Accessible Computing Made Simpler: https://www.afb.org/aw/21/7/17113