At Dolphin, we aim to give people with sight loss the technology they need to read and succeed. In this blog, our partners at Calibre Audio explore some of the many benefits of reading - whether in print or as audio books.
For some people, reading a good book is as much a part of their daily routine as cleaning their teeth or eating and drinking. For others, reading is a passion or a hobby that they try to fit into their busy lives wherever possible. So, what could be better for a book lover, particularly those in the latter category, than being given more great reasons to read? More excuses to plan time to curl up with a book as the day stretches in front of you, and to reap the plentiful benefits it brings.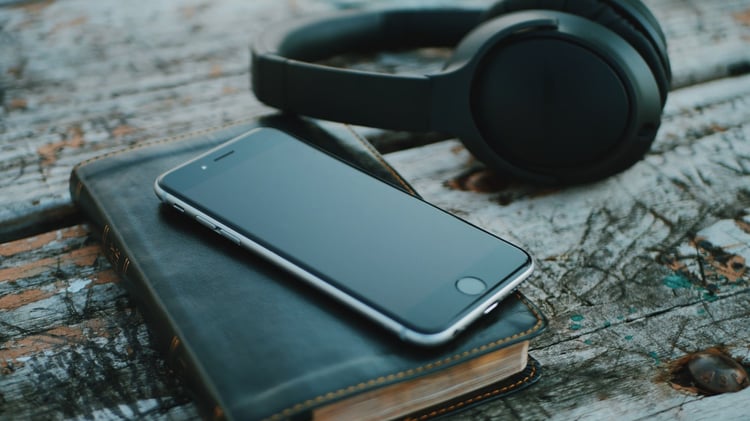 Have you ever asked yourself why you read? Is it that it absorbs you? Or calms a busy mind? Reading can also redirect thoughts from ill-health, providing a distraction and giving access to worlds and experiences that are otherwise out of reach. Books can bring joy.
As well as the many reasons to read, there are many recognised health benefits from reading; from reducing stress and helping to combat memory loss, to its positive impact on mental health. Books provide companionship, adventure and pleasure, and audiobooks extend these benefits to include those who cannot read printed books.


---
Reading and wellbeing
One of the most concerning challenges facing our current world is a growing mental health crisis, with increased levels of anxiety, depression and loneliness afflicting society in all age groups. Whilst long periods of lockdown have heightened these emotions, 19% of regular readers say it stops them from feeling lonely1.
As little as just 30 minutes per week spent reading a book means that you are 20% more likely to report greater life satisfaction2. Moreover, people who read for pleasure are likely to report higher levels of self-esteem3. The benefits can be summed up by Game of Thrones author, George R. R. Martin, on the capacity of books:
"A reader lives a thousand lives before he dies.

A man who never reads lives only one".
---
Reading and cognitive development
The case for reading is similarly persuasive from a developmental and economic perspective. In fact, reading for pleasure is a stronger predictor of increased cognitive development than the individual's level of education. It is also a stronger indicator of life achievement than an individual's socio-economic background4. The presence of an enjoyment of books and reading in forging for ourselves a highly successful career is also evidenced simply by observing the wealthiest and most successful people of all time.
Oprah Winfrey credits reading as her 'path to personal freedom'5 and Bill Gates reads no less than 50 books a year and recommends note-taking and finishing every book you start as methods for maximising the potential for learning6. Another former world's richest man, Warren Buffett, reads for 6 hours a day, and the current richest, Elon Musk, grew up reading two books a day according to his brother7. If that's not enough of a testament to the power of books, let us remind you that Amazon, the world's biggest company, started as an online book retailer.


---
Reading as a social activity

The concept of settling down to read a good book is generally thought to be a solitary occupation, something we can do by retreating to a quiet corner to escape the hustle and bustle of the real world. However, human beings by nature are social animals, perhaps why living during these unprecedented times of lockdown and social separation from our friends and family has been so hard for so many of us. It is, therefore, no surprise that book groups exist, a place where those of us who like to read can come together with like-minded individuals, to dissect and discuss our favourite books and to find companionship and intellectual stimulation.
Book groups are not a new notion, some say the idea can be traced back as far as the Socratic Circles in 400 BC, where great philosophers such as Socrates, Aristophanes, Xenophon and Plato congregated at the Socrates School to discuss matters of human nature, life and politics8. They were based on a belief of 'asking questions' and creating discussion with no answer being the 'right answer'. This is the format of many book groups even today, a place to discuss and offer opinions on a text and to bring together opposing and complementary views and insights into life.
During the present climate, many book groups have gone online to become virtual events and have proven a lifeline for many who might otherwise have found themselves alone and lonely.
---
Reading with your family and children




Finally, there's no better reason to read than to encourage little minds to do the same. That children mimic their grown-ups is a known fact, so children who see their parents reading, or children whose parents read with them are much more likely to pick up a book themselves. It is scientifically acknowledged that children and young people who read are better able to grasp concepts and apply logic in various scenarios and those who are exposed to reading before preschool have a higher chance of doing well in their education than their peers. Remarkably a children's book exposes a child to 50% more words than a TV programme9. During this half-term, why not grab a book, get your kids together and enjoy the fun that reading together can bring.
We hope this has provided a little food for thought whilst you plan your next read, safe in the knowledge that you are also boosting your own self-esteem, mental health and cognitive development, setting your kids off on a good path and a lifelong love of books and of course taking one step closer to the world's rich list!
---
Calibre Audio
Calibre Audio is a national charity providing an audiobook service for anyone with a disability that makes reading print difficult.
Each year, the Calibre Audio service connects over 16,000 members of all ages to the books they love. Its ethos is that the joy of reading should be shared by everyone and the collection promotes access, inclusion and choice with over 1,000 books added each year.
In addition to being a listed library in Dolphin EasyReader, Calibre Audio books are available via streaming and USB memory stick.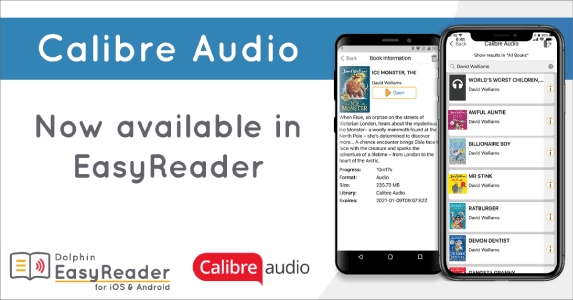 Dolphin EasyReader App
Dolphin EasyReader App enables people who are blind, partially sighted or dyslexic to read in ways that suit their vision and their reading preferences. It provides direct access to the world's largest collection of accessible book libraries and talking newspaper services.
With EasyReader App, you can read on screen with magnification and customisable text views. Or you can choose to read with the text-to-speech or audio book settings to read the way you prefer.
EasyReader App makes reading a pleasure, find out more about EasyReader App and rediscover the joy of reading.
---
References
University of Liverpool, 2015 p.6

University of Liverpool, 2015 p.7

Hillhorst et al, 2018 p.18

Sullivan and Brown, 2013

.

Business Insider, 2017

EAB, 2019

Business Insider, 2017

.

Org. 'The Best Bookclubs throughout History, 2018.

Business Insider 2016