What makes a classroom accessible?
In modern classrooms, accessibility means providing for the learning needs of all children in a class. Delivering methods and materials helps each student learn at the same pace as their classmates. Access to learning material should complement different learning styles, neurodiversity, physical and cognitive abilities, so each student learns in line with their peers.
While you might automatically think about accessibility in terms of physical disability - perhaps wheelchair users or learners with visual impairments - increasingly as a society, we're becoming more aware of 'hidden disabilities' which include neurodiversity and a wider range of print impairments.
Each of these can affect the ways students interpret information, the way they read and the way they learn. To have a truly inclusive approach in the classroom, we need to offer access to learning materials – such as printed documents, textbooks and whiteboard presentations – in ways that enhance and enable the learning experience for everyone, not just the kids who are comfortable with reading text on a printed page.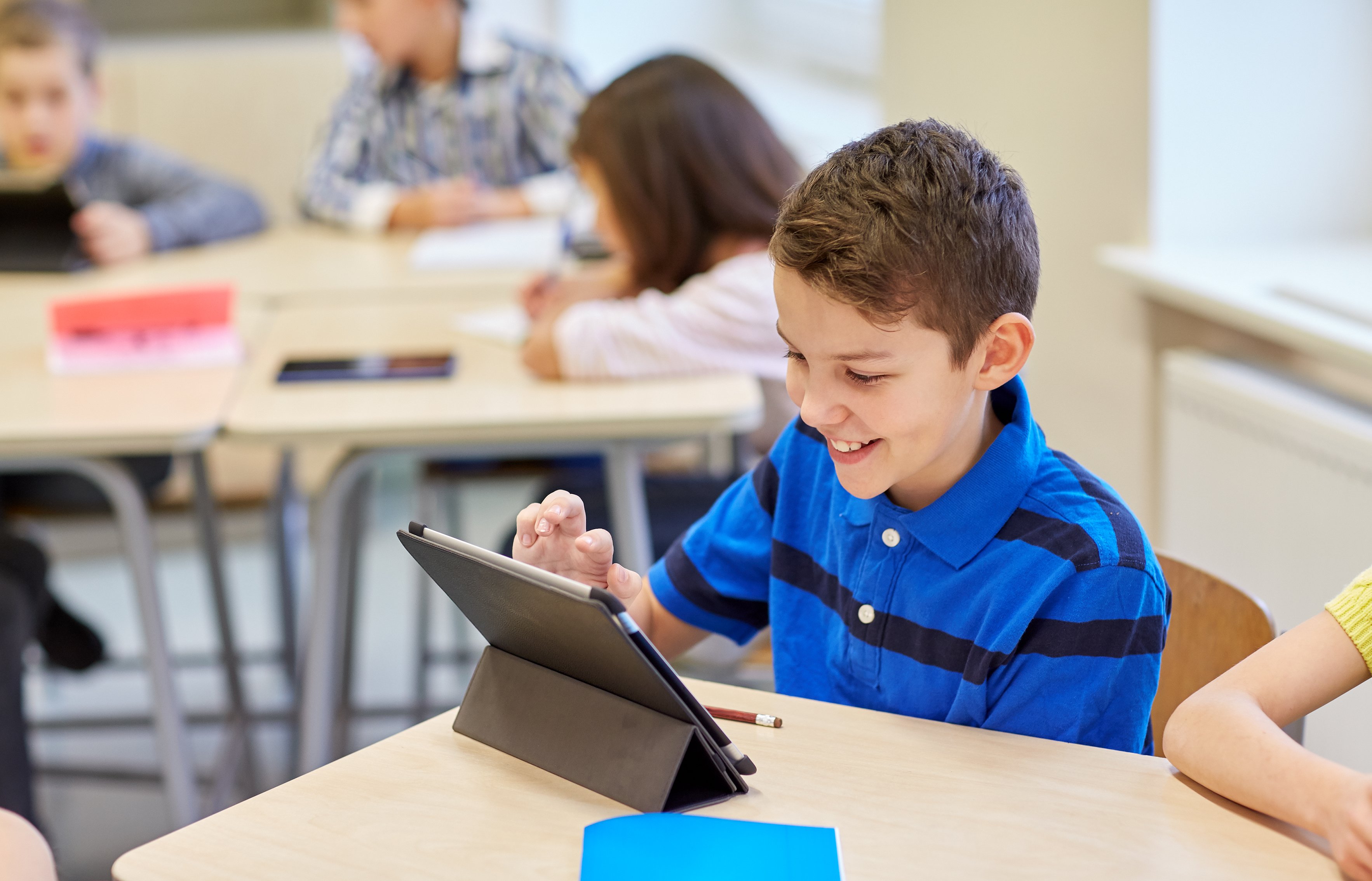 Neurodiverse classes
Neurodiversity is a fairly new term, but one that we're coming to hear more about in recent times. As an overarching term, neurodiversity is usually used to imply a number of conditions where people experience the world and learn in different ways.
Neurodiverse conditions include dyslexia, autism and ADD. However, a truly neurodiverse class would also include 'neurotypical' kids – the ones who are catered for by traditional teaching and learning methods.
For learners with dyslexia, offering alternatives to printed text can help them read the information they need to learn. The Dyslexia Association in the UK recommends audio books as a reading tool for people with dyslexia. While anecdotally, combinations of different colour backgrounds, dyslexia-friendly fonts and increases in letter or line spacing are often found to be helpful to improve reading comfort.
An inclusive classroom contains a variety of students and accommodates all types of learning.
---
The VARK model of learning
In 1987, Neil Fleming introduced the VARK model as a guide to identifying individual learning preferences. The VARK Questionnaire helps individuals identify their learning preferences from four learning styles. These reflect the experiences of students and teachers and are defined as Visual, Auditory, Reading/Writing and Kinaesthetic.
Visual:

Visual learners benefit from graphical depiction of information. These visual formats include diagrams, charts, maps, graphs and symbols. Please note that it doesn't include photographs, videos or PowerPoint presentations.

Aural / Auditory:

Learners with an auditory preference tend to learn best from the spoken word. They benefit from lectures, group discussions, music, phone calls, radio and podcasts. They may also learn from webchat and emails, if written in informal chat styles, with abbreviations and slang.

This style of learning involves speaking aloud – both to others and to oneself – so aural learners may repeat what's already been said, or ask people to repeat themselves. Often they speak first, before thinking through an answer.

Read/Write:

The preference here is for information displayed as words. This traditional read-and-write format is the typical way of teaching and learning in many classrooms. Results include essays, reports and assignments. While learning tools include books, lists, quotations, the internet, diaries and passages of text.

Kinaesthetic:

Kinaesthetic learners have a preference for learning through experience. The key to this learning style is to connect it to reality. Learning by doing, or watching someone else do something is beneficial. Tools for learning include experiments, demonstrations, videos, case studies, apps and practice.

It benefits kinaesthetic learners to do things themselves, rather than rely on the experiences of others. They learn best when they can grasp, hold, taste or feel something.
As you would expect, most people don't have just one way of learning. There is usually some overlap between groups. Many people have an even mix of all four preferences for learning – described as 'multimodal'. Some people will mix two or three preferences equally, others will need input from all four groups, gathering information from each mode to get a deeper and broader understanding – though this of course increases the time it takes to learn.
---
Practical ways to make learning material accessible
Making books, and other reading material (class handouts, the classroom whiteboard, exam papers etc) accessible means more students can learn in ways that suit their learning style or their visual needs.
Schools can do this in different ways. You might provide material in audible formats, on different colour paper, in enlarged font, or all of the above! In modern classrooms, you can make use of technology such as EasyReader, or the SuperNova range from Dolphin.
The latter is particularly useful for children with visual impairments, as it enables them to read printed documents, annotate class handouts such as quizzes and even read the classroom whiteboard content in real time with magnification or audio!
To make accessible reading really work, some teachers may have to reconsider what constitutes 'reading'. Ask yourself and your colleagues: 'Is reading always a visual activity?' If your answer is yes, then what happens when a child has a visual impairment? Is the message to them that they cannot and will never read? Absolutely not! The same should be true of any child who has any print disability – whether through visual impairment, cognitive disability or neurodiversity.
Everyone has a right to read and enjoy books – however they read.

Freedom to read in alternative formats
In recent years, the UNESCO, organisers of World Book Day – an annual, global celebration of books and reading - added audiobooks to their list of free books. This helps highlight the benefits of accessible reading and how reading for enjoyment has lifelong benefits.
"Reading for pleasure is the single biggest indicator for success in life, more than family circumstances, educational background, or income."

Organisation for Economic Co-operation & Development
Children should be encouraged to enjoy books and stories in alternative formats, as well as traditional paper books. So, if your class is reading a novel as part of their curriculum, could you make your classroom even more inclusive and refer to audiobooks as reading? Could you provide your students with the means to read audibly? Perhaps on a tablet, an MP3 player or another device.
Try offering your class audio versions of the class novel, or audio with read-along through EasyReader App and find out for yourself how it enhances your class's experience of the book and their comprehension of the story.


How assistive technology can help
There are many ways assistive technology can help kids read and learn in class. At Dolphin, we value the importance of reading in education. Dolphin develops assistive technology, primarily for people who are visually impaired and also for people with dyslexia and other print impairments.
Dolphin software is used to read textbooks - perhaps with additional line spacing, different coloured backgrounds or uncomplicated fonts. Maybe with audio, with magnification, or a combination of the two. There are also options for children who can read braille.
Assistive technology means inclusion. With tech, more students in class can access, read and understand class handouts, whiteboard presentations, textbooks and class novels. However they read, comprehension improves.
Tech means there's no need for enlarged photocopies or printouts on A3 that make visually impaired children stand out from the crowd. Accessibility features enable blind or partially sighted students to study in real time, alongside their classmates.
About Accessible Libraries
There are libraries of accessible books available all around the world, free to use for eligible readers.
Memberships to accessible libraries are usually offered to anyone with a 'print impairment'. This encompasses a wide range of physical, cognitive and neurodiverse conditions which mean reading a traditional printed book is difficult or impossible. Increasingly, major publishers such as Penguin Random House are making their publications - old and new - available in formats for accessible libraries to include.
Some accessible libraries also include large collections of accessible versions of textbooks and learning material for schools, colleges and universities. These include the CELA library in Canada, and in the UK, the RNIB Bookshare Education Collection holds over 900,000 books for learning. These are free to read for any young person with a print impairment - including dyslexia or a vision impairment.
Eligible readers can quickly sign up for accessible library memberships in their resident country. Often run by charities, the books in accessible libraries are available to browse, download and read in accessible formats. Historically these books were sent in the post, (and this is often still possible), but of course now we have digital book readers which mean you can download and read books on your preferred device in an instant!
If you're interested in reading accessible books or browsing accessible libraries, download the EasyReader App now. It provides direct access to over 40 accessible libraries around the world, along with the means to read the books themselves. With EasyReader App, you can read in formats that include dyslexia-friendly fonts, magnification, speech and a combination of these. Find out more at yourdolphin.com/EasyReader
What is a print impairment?



A print impairment - sometimes known as a print disability - is defined as a difficulty or inability to read printed material, due to a physical, perceptual, or visual disability.



Reasons for print disability vary, but may include:
Blindness or partial sight

Neurodiverse conditions, such as dyslexia

Physical dexterity issues that make holding a book physically difficult or impossible
(these might be caused by conditions such as MS, Parkinson's disease, arthritis or paralysis)

A brain injury or cognitive impairment, such as early dementia

Difficulties with literacy
Please note that generally speaking, vision that can be rectified with reading glasses, or language difficulties due to reading in a second language are not classed as print impairments.
---
Positive impacts on learning experience
Making books and other learning material accessible to the whole class means all your students are given permission and the freedom to read and enjoy books – and to learn - their way.
Provide assistive technology as part of your classroom tools and your classroom becomes more inclusive. This can be done without additional costs, with free reading tools such as EasyReader App.
Students who can access different ways of learning feel more accepted and a valued part of the class. They can reach their full potential, for a better learning experience and better learning outcomes.
Further information about how you can make your classroom more inclusive with assistive technology is available now in the Education section on the Dolphin website.
---

The EasyReader range offers individuals and schools the technology to read with enlarged text, audio or a combination of the two.
The EasyReader App is free to download and use. It connects to more than 40 accessible libraries, including educational book collections.

SuperNova gives students with visual impairments equal access to education. Learners of all ages can study in line with their classmates using SuperNova assistive technology.
There are three editions of SuperNova: Magnifier, Magnifier & Speech and Magnifier & ScreenReader. This means schools can provide for students who are blind, have partial sight or low vision, as well as young people whose sight changes throughout the school day.