Dolphin has launched GuideConnect Video Calling:

Accessible video calling for people with visual impairments.
Video calling services have been the primary method for staying connected to family and friends, teachers, employers and the wider community since the onset of the worldwide COVID-19 pandemic. It could be said that this technology has been one of the saving graces of lockdowns throughout the world.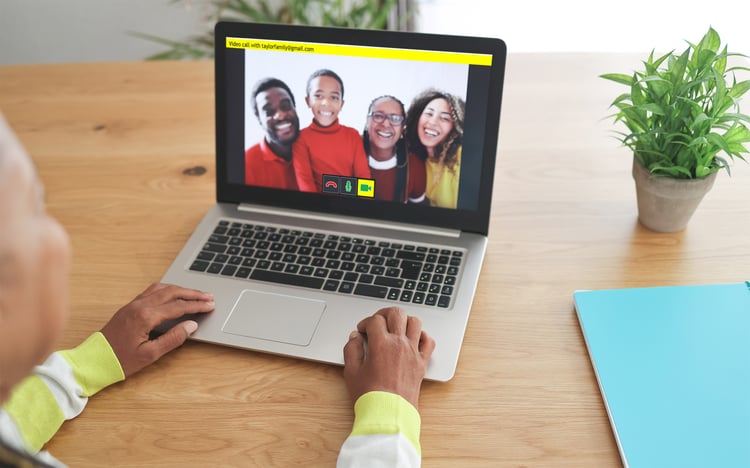 It allows students to continue their education and enables employees to work safely from home. More importantly, it keeps many of us from feeling lonely and isolated, even during the strictest periods of lockdown and restrictions. Video Calling bridges the gap between family and friends and fulfils our need for human interaction - something people who are blind or visually impaired can lack far too often.
Today, hundreds of millions of people use video calling services both personally and professionally, but for people with visual impairments most video-conferencing platforms remain difficult to use with assistive technology. This means people with sight loss or who are blind face barriers that can make it difficult to use this technology: registering, entering passwords, clicking links and dialogue boxes to start meetings all come with additional challenges.
At Dolphin, we strive to build opportunities for people with visual impairments, so everyone has the same opportunities to connect. To fulfil our goal and enable people to make video calls - regardless of visual impairments or experience with computers - Dolphin created its own accessible Video Calling service. One which is accessible and easy to use!
Find out more about accessible Video Calling
---

What is GuideConnect?
Simply, GuideConnect is computer software that enables people with visual impairments to easily – and independently – connect, communicate and access entertainment through their computer, tablet or TV.
GuideConnect has simple step-by-step menus and icons which can be adjusted to suit the user's own sight. These can be as big as the user needs and colours can be adjusted to suit the user's vision, too. In addition, it talks! A choice of computer voices talk you through each step, to help the user find their way around.
GuideConnect helps the user navigate common computer tasks, and enables easy access to means of communication. This includes emails, scanning printed letters, visiting websites and now video calling, too.
For lots of people with sight loss - especially those who start losing their sight later in life - it can be difficult to learn to use a computer or tablet. GuideConnect is different, it's reassuringly easy to use, accessibility is built-in and it's made to support users with visual impairments.
---
Video Calling with GuideConnect
In GuideConnect, Premium Plan customers can now make video calls to:
Other GuideConnect customers who have an active Premium Plan

Friends and family who have signed up for a free Dolphin Account.
Before you make a call, it's important you have your contact's name and email address in your GuideConnect Address Book and they will need to have yours. This is how the calls will connect. We also recommend you add them to favourites in the Video Calling menu, this way you can see when they're online and available.
It's easy to make a video call:
Select Video Calling from the GuideConnect Main Menu

Select Make a Video Call

From the list, select the contact you'd like to video call

Select Video Call and you'll be connected
As with all the features in GuideConnect, video calling only requires a few simple selections. It's so easy to use. For full instructions, visit the Video Calling in GuideConnect pages on the Dolphin website.
---




Dolphin Video Calling Service for Friends & Family
Friends and family who want to make a video call to a GuideConnect user can sign up for a free Dolphin Account, to use the Dolphin Video Calling Service. Calls can be made from any computer, tablet or smartphone with an internet connection.
Simply sign up and sign in or for for full instructions, visit the Video Calling for Friends & Family page on the Dolphin website.
---
Video Calling is a GuideConnect Premium Plan feature
Video Calling is free to all GuideConnect users with an active Premium Plan (previously known as GCAS)
We are delighted to be able to offer Premium Plan to all GuideConnect users at no extra charge until at least March 2021. All new purchases of GuideConnect include Premium Plan for one year and each users' Premium Plan should be renewed annually.
The benefits of Premium Plan go beyond being able to use Video Calling. It includes access to all future premium features, free software updates and priority support. Premium Plan holders will always be at the forefront of new technology updates in GuideConnect.
Find out more about Premium Plan and its many benefits on the Dolphin website.
---

How Dolphin is Making a Difference
Video Calling is just one more way Dolphin goes beyond open-ended tool development and works to create a thriving community. GuideConnect enables people with visual impairments to connect with others, read the latest bestseller, automatically receive their newspapers, search the internet, listen to the radio and much more. GuideConnect enables users to retain their independence.
Download a free 30-day trial of GuideConnect today, or share this information with any clients, friends or family members with visual impairments. Find out how GuideConnect benefits it users to lead more independent lives.