There's so much new and exciting technology available now, and each opens a world of connection, convenience or entertainment. For people who are blind or partially sighted, assistive technology can play an even bigger role. It builds connections, reduces loneliness and helps users retain their independence and privacy.
So, how do you find out which is most suitable for your level of technical ability, your interests and needs? How might you work out which will be of real value to you, and which would be a waste of your time and money? What if you know nothing about the types of technology available or find the whole thing overwhelming?
Assistive technology experts at Dolphin Computer Access have produced an Essential Guide to Assistive Technology for the Home to help answer all these questions.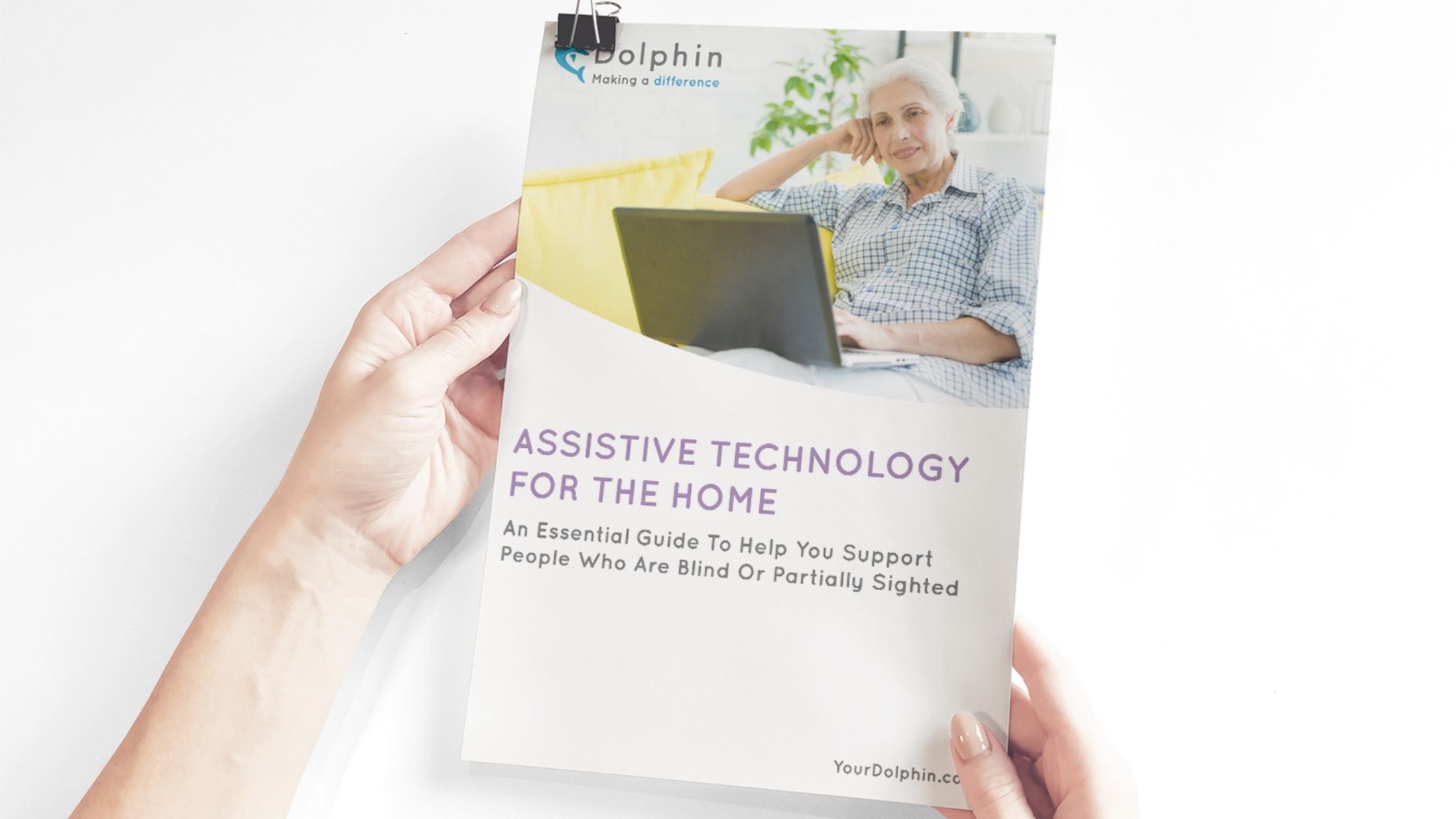 How will I use this guide to help me find the best assistive technology for people with sight loss?
The Essential Guide to Assistive Technology for the Home explores a range of easy-to-use and high-tech products designed for use in the home and designed specifically for people with vision impairments. It includes products from Dolphin and other providers, to give you a balanced view.
The Guide introduces a number of different devices and systems. It briefly explains the pros and cons of each and explains how suitable it might be. The Guide considers different levels of experience with computers and technology - so you can find technology that's suitable for all levels of experience - from novices through to experienced computer users.
Each type of product is introduced and described, with its range of activities and uses defined, so you can work out if they are suitable for your needs. The products' benefits and challenges are then discussed - and a summary made - so you can determine quickly which might be best, and which merit further investigation, or a demo.


Who benefits from reading the Essential Guide to Assistive Technology?
If you work for a sight loss society, or volunteer at a sight loss charity, this Guide will help you learn the technology available for visually impaired people to use in their own homes. It ensures you have a good overview of the technology available. It will help you make knowledgeable recommendations, so you can meet your clients' needs and introduce them to technology that suits their level of experience.
If you are blind or partially sighted - or if a friend, family member or someone you care for has a visual impairment - you can use the Guide to find new technology that empowers its users to retain their independence.
The Essential Guide helps point you in the right direction, so you can discover the best assistive technology options available and explore them further.
To receive your own free copy of the Essential Guide to Assistive Technology for the Home, complete our simple form and we'll email it to you.
What steps can I take next?
Once you've read the Essential Guide to Assistive Technology, you might want to find out more about some of Dolphin's assistive technology products - such as GuideConnect or SuperNova. Visit the Products for Home Users section to gain more information or book a demonstration.
If you work for a local sight loss society or volunteer at a sight loss charity, for a limited time only we're offering free online training which will teach you how to demonstrate GuideConnect. Find out more and book your place on this training course with our GuideConnect expert, Dave Salisbury.
Your society will receive a resource pack and a 10% discount on GuideConnect for its members, and you will become an Approved GuideConnect Demonstrator.