GuideConnect helps people with sight loss at Kent Association for the Blind
For over 100 years, the Kent Association for the Blind (KAB) has been supporting people who are blind or visually impaired to live independently.
Dolphin spent time at the KAB, training members of their Assistive Technology team how to use GuideConnect software, so they could in turn train their members and service users. More recently, the Dolphin team visited the KAB again to hear about the positive impacts GuideConnect has had since the training has been put into practice, and we were delighted with what we heard!
Watch the video 'Rosemary's Story' below, to hear how GuideConnect has helped her communicate more with her family. You'll also how Steve and Peter - members of the Assistive Technology team at KAB - have found GuideConnect helps the people with visual impairments that they support.

---

KAB recommends Dolphin GuideConnect to their service users, particularly to people experiencing sight loss in later life. Their Assistive Technology team is fully trained to demonstrate and advise people how to use the system, with really positive results.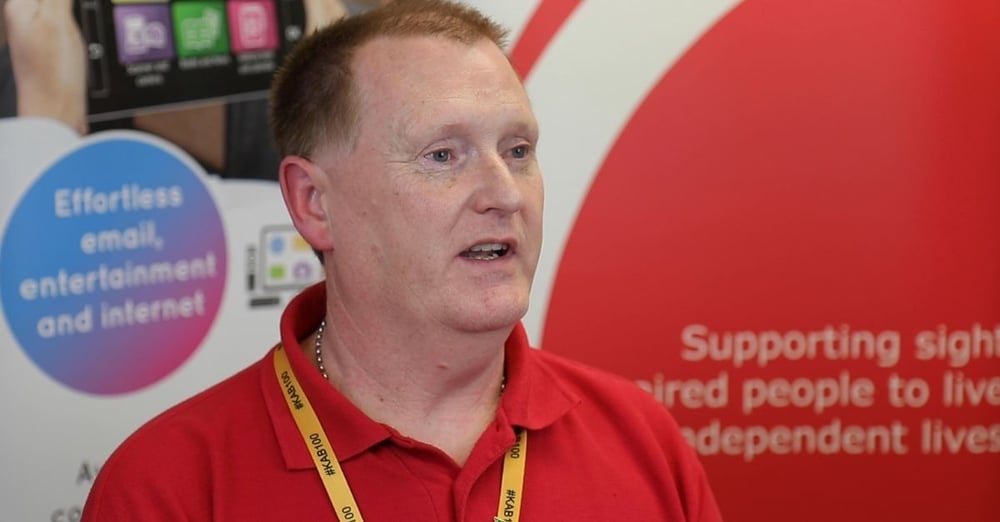 The positive impact of GuideConnect
Peter Coe is an Assistive Technology Worker at KAB and he's been training people with sight loss to use GuideConnect. It is encouraging to hear the positive effect he says GuideConnect has on users' wellbeing:
"I think the most important thing is, it gives people independence and their privacy, which in turn gives them self-respect. They feel again that they're equal with their sighted peers."
---

How GuideConnect Helps - Rosemary's Story
When we visited KAB, we also spoke Rosemary, a society member who was trained to use GuideConnect by KAB's assistive technology team.
Rosemary's enthusiasm for GuideConnect was wonderful to hear, and we were delighted when she told us how using GuideConnect had made such a positive impact on her day to day life.
"It's an extremely handy tool of living as far as I'm concerned and I couldn't imagine life without it now."
Using GuideConnect, Rosemary now finds it really easy to access her favourite radio shows, to scan her post (so that GuideConnect can read her letters aloud) and most importantly, she uses GuideConnect to email and keep in touch with loved ones who don't live nearby:
"I find that GuideConnect keeps me in touch with my family."
When she was diagnosed with macular degeneration, Rosemary thought she could never use a computer, but now she uses GuideConnect to live a more independent life. Find out more about the ways Rosemary uses GuideConnect in the video 'Rosemary's Story'.
---

Assistive Technology for Sight Loss
Using assistive technology designed for people with vision impairments opens up a world of opportunity to those who may have thought their options were becoming limited by their sight loss.
Assistive Technology provides a key part of the support offered by Kent Association for the Blind. The team at KAB assesses service user's requirements and recommends technology that suits each individual's interests and level of computing experience – from novice to experienced users.
The team is then able to train people how to use their preferred assistive technology.
"The great value for our service users using GuideConnect is they are able to get their dignity back, and their privacy"

---

GuideConnect Makes Computers and Tablets Easy to Use
GuideConnect is a very intuitive system and so is a great choice for anyone who is new to computers and tablets, including people who have started losing their sight later in life. Using simple step-by-step menu options which are spoken aloud, GuideConnect makes it incredibly easy to communicate and access the same entertainment as fully-sighted people. The program is available on a computer, a tablet and even through your TV!
It is also a great choice for more confident computer users who want to continue to use technology that works for them as their sight changes. Talking about the service users he'd trained on GuideConnect, Steve told us that "GuideConnect gives them that lease of life that they can then do it in a more straightforward way, which obviously builds confidence"
---

Free GuideConnect Training with Dolphin Friends
Dolphin is currently offering free essential training on GuideConnect as part of the Dolphin Friends partnership.
Dolphin Friends is exclusive to UK societies and charities that support people who are blind or partially sighted. If you work or volunteer for a sight loss charity or society, you are welcome to join Dolphin Friends. It's free to join and your charity will benefit from donations, resources and staff training.
"You're never too old [to learn] and Dolphin GuideConnect makes that really clear!"
Rosemary, service user at KAB and GuideConnect customer.
---