Smartphones changed the way we work and live—Connect & Learn for education does that for students and schools!
As an educator working with students who are visually impaired, you're on the forefront of technology, you're probably what the world views as an "early adopter." But do you remember your very first smartphone? Do you remember holding that beautiful, probably expensive, piece of technology in your hot little hands? You explored with amazement all of the things you could do—get your email, surf the net, load your music and go to a place you've never driven without printing pages and pages of Mapquest directions. It was ALL in there, everything you needed and things you didn't even know you needed but as it turns out, you did. And if that wasn't enough, you could walk around with that fantastic, tiny, all-around tech solution in your pocket or purse. It changed your life, and with each new inventive app that's released, probably continues to do that today. That's the kind of pivotal technology your students need, and that's what they get with Connect & Learn.
SuperNova's Connect & Learn Bundle is to students with visual impairments as that first smartphone was to you back in the day!
In addition to providing them with a single solution, instead of 5 separate kinds of assistive technology, it cost schools thousands less. They get all they need to ensure equitable access to the same information and learning, at the same time as their peers, and it all fits in the included backpack.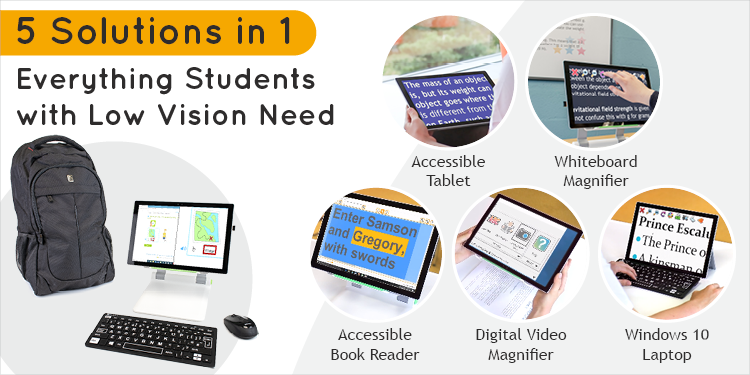 Connect & Learn is a Digital Video Magnifier and conversion tool combined. It gives students live, high definition magnification and a staging stand so that they can view class handouts on the fly. If students need to capture handouts and use speech support, they use a one-button image capture which can be instantly converted to digital text and supported with speech.
Connect & Learn has a Dynamic Touchscreen, and when we say it's a touchscreen, we mean it really works like a typical touchscreen—pinch to decrease magnification, spread fingers out to increase magnification. Everything is accessible by touch.
Connect & Learn is a Full Productivity Tool, by adding Dolphin's wireless keyboard, or the keyboard of your choice, SuperNova on the tablet becomes a full productivity computer that's compatible with all of the mainstream applications for Windows—MS Office tools, the leading internet browsers and more.
Connect & Learn is a Customized Interactive Whiteboard, using our wizzard, students wirelessly connect to interactive whiteboards WITHOUT A CAMERA, enabling them to customize their own unique view of the whiteboard to suite their visual and learning needs. No more sitting in the front of the room, working around a blocked view when the teacher is adding information to the board, it is pure genius!
Connect & Learn is an Accessible Book Reader, students instantly direct-connect to all of the world's largest accessible book libraries—Bookshare, RNIB and CELA to name a few. They can browse, download and read an unlimited number of books (newspapers and magazines too, delivered automatically), easily setting personal preferences like color, text size, voices and reading rate.
Connect & Learn is Delivered on a Tablet, we've put SuperNova on the sought after MS Surface Pro, which meets all of the technical specs, is ultra-light and has all day battery life. You shouldn't have to buy expensive gaming-speed computers for your students with special needs, so now you don't.
If you are serving students' with visual impairments, need a solution that provides ALL of the accommodations necessary to get them through the day, and would be delighted to find something that costs THOUSANDS LESS, you're going to love Connect & Learn.
Request A FREE, Personalized Training for Your Team!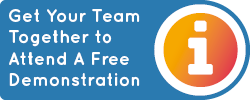 Or, Register for our US Connect & Learn Webinar
September 2nd, 8am PT/10am CT/11am ET!