If you're looking for information and the right assistive technology products to support a friend, family member or colleague who is blind, partially sighted or losing their sight, Dolphin can help. We'll arm you with helpful information, up to date advice, and relevant assistive technology products to suit a range of vision impairments.
An understanding of the most up-to-date tech helps you support people who need assistive technology due to a visual impairment. Plus, the knowledge you gain about assistive technology for people who are blind or partially sighted will help you to help your loved ones make an informed decision on the assistive technology that will benefit them most.
Dolphin develops technology that supports people with visual impairments in all stages of life. In this blog, we will focus on how Dolphin assistive technology can help older people with sight loss communicate, access entertainment and live independently in their own home for longer.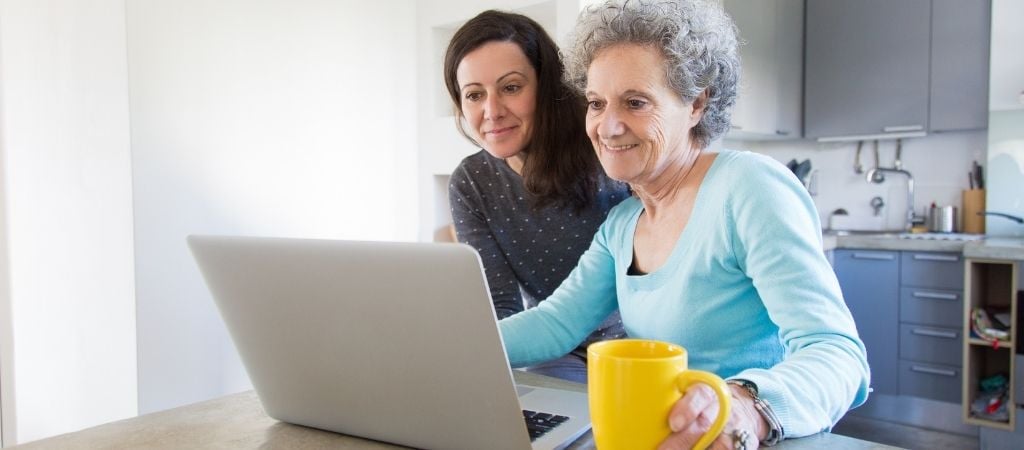 ---
What does Dolphin Computer Access do?
Dolphin Computer Access develops software that helps people who are blind or partially sighted to read the information on a computer screen.
Dolphin assistive technology for people with visual impairments includes:
---
How age affects sight loss
While sight loss can occur at any age and for a wide variety of reasons, currently in the UK, age-related macular degeneration is the primary cause of blindness in adults. Recent studies show that other significant factors include glaucoma, cataracts and diabetic retinopathy.
The RNIB report that as we get older, we're more likely to experience a visual impairment. Currently, 20% of people age 75 and over live with sight loss, and this rises to 50% of people aged 90 and over.
At Dolphin we appreciate that the people who are likely to benefit most from assistive technology for sight loss are also the people who have not grown up with computer technology, and so they often have little - or no - experience with computers. For this reason, Dolphin has developed GuideConnect, a simple, menu-based technology that's really easy to learn and to use.
GuideConnect is designed to be uncomplicated and can be adjusted and adapted in many ways to suit the users' level of vision, even as their sight deteriorates over time.
We hope that it is reassuring to know that Dolphin has the assistive technology in place that can help people with age-related sight loss maintain their independence at home for longer, whatever their level of computer experience.
---

About GuideConnect
GuideConnect is easy-to-use assistive technology that helps users to complete everyday tasks independently at home. GuideConnect is fantastic for people who have never used a computer, as well as those who are a bit more tech savvy. It uses simple menus, clear and accessible graphics and speech functions which are easy to navigate.
GuideConnect users can do a whole host of useful things independently. From communicating with loved ones and formal contacts by email, letter or video calls, through to accessing entertainment such as audio books, radio, podcasts and accessible games. It also enables users to keep a diary and maintain an address book.
GuideConnect is also available on a range of devices to suit the user. For these reasons, it is frequently recommended by sight loss centres and charities as a helpful piece of assistive tech for older people who are losing their sight.
How GuideConnect helps people with sight loss at Kent Association for the Blind.
---
Helping people with sight loss stay independent
GuideConnect helps retain independence in ways you might not have considered:
Offering an independent way to email can maintain communication
Scanning and reading printed letters and labels can help maintain privacy
GuideConnect provides an accessible way to video call - which helps reduce isolation and loneliness
Providing a variety of ways to read comfortably increases enjoyment, while better access to libraries of audio books improves choice
Engaging and accessible versions of familiar games is a lot of fun
Maintaining an address book and diary helps with organisation and connections
---
Easy to use assistive technology
GuideConnect is designed to be used by everyone, whatever their level of computer skills. If you have a friend or family member with no experience of using a computer, it might not make sense to them to start using one as their sight deteriorates. We - and the people already using GuideConnect - disagree! The right computer programme, one which is designed to be user-friendly, intuitive and easy to use, has so many benefits for wellbeing, communication and independence.
Dolphin GuideConnect is designed specifically so that it's incredibly straightforward to use. It doesn't have to be operated on a laptop or PC, there are a range of more familiar devices that access GuideConnect. It has simple menus which mean all you need to master is up, down, enter and escape. From these commands you can do everything!
All the features in GuideConnect are consistent – there aren't different interfaces to learn – whether you're writing a document, sending an email or listening to the radio.
The beauty of GuideConnect is that it gives you options. It can be operated on a laptop or PC, through touchscreen tablets or even through a Dolphin Remote Control, with the display on your television (perfect if you already have a large screen). Crucially, it is adaptable for individual sight levels and any deterioration over time.
Visit 'How to Control GuideConnect' Video Playlist

Whatever your level of technical expertise, you will be able to learn and use GuideConnect quickly and easily. This means that you can take advantage of assistive technology, so independence, entertainment and communication all stay in easy reach.
---
Finding the right device
If you're searching for the right assistive technology for an elderly relative or friend and they're not accustomed to using technology, GuideConnect is an excellent choice.
With simple menus, large icons and intuitive navigation, GuideConnect is proven user-friendly technology that is incredibly easy to operate. Importantly, GuideConnect offers choice.
For people whose vision means they prefer a large screen, GuideConnect displayed on a TV is an excellent option. Alternatively, you might prefer to use a portable, lightweight device such as a tablet or a laptop and GuideConnect makes that possible, too. For people who are used to using a larger desktop computer, GuideConnect is available to use on Windows PCs.
For people who don't already own a Windows computer or tablet, Dolphin offers GuideConnect packages which contain everything you need:
The GuideConnect TV package
Includes a Dolphin remote control, a webcam to make video calls and a box that connects to your own TV so you can start using GuideConnect from the comfort of your living room.
The GuideConnect Tablet package
Great for people who want to use GuideConnect wherever they go. It's easy to take with you when you're out and about, and comfortable to use at home.
The GuideConnect Laptop package
Perfect for people who want to use the computer with a traditional keyboard, without the need for a desk. A laptop is easy to use and can be stowed away afterwards. This package includes a headset with microphone, a laptop (various size screens are available) and a scanner/printer/copier.
The GuideConnect Desktop Package
Contains everything you need to work on a PC, from your choice of monitors in different size screens, a scanner/printer/copier, plus speakers, a high-contrast keyboard and mouse. The PC package also includes a HD webcam and a USB headset with microphone.
---

Creating a support network
In the UK, we include two hours of telephone training with every GuideConnect purchase. This helps each user - particularly those who aren't proficient with computer technology - learn how to use GuideConnect. These hours of telephone training don't have to be taken in one go, they can be spread out in sections, as needed.
Additional customer support is always available via email, telephone support and video tutorials:
Visit the Learn GuideConnect Video Playlist to find out more.

You can help too! If you're technically able, ensure you're around to help answer any simple questions and be on hand to build confidence and help with practice. There are lots of ways to help your friend or family member feel more confident with their new GuideConnect technology. You could start with making time for a regular video call, which is free through the GuideConnect accessible video calling service. You could also supervise a few entries into the address book or diary, and help to set up favourite radio stations or podcasts in GuideConnect, so they're easy to find and ready to listen to.
---
The positive impact of GuideConnect
In conclusion, when you enable and encourage use of assistive technology, confidence in the technology itself and the person's ability to use it grows. This helps build self-confidence and encourages further use.
The accessibility of GuideConnect means it's easier for older people to take part in the things they love doing but may have stopped because of age-related macular degeneration.
For older people with sight loss in particular, GuideConnect promotes independence. It encourages communication and reconnection, with both people and enjoyable activities.
---
Find out more about GuideConnect
If you think GuideConnect might be a useful tool to help someone you care for, get in touch with the Dolphin team to find out more. You can reach us on 01905 754 577 or email info@YourDolphin.com
If you would like to try GuideConnect we offer a 30-day free trial and if you'd like to take a tour online, book an online GuideConnect product demonstration
If you'd like to know about other types of technology available for people who are blind or partially sighted, download the Essential Guide to Assistive Technology for the Home which provides a useful introduction to a wide range of assistive tech.