How, Why and When to use GuideConnect Video Calling.
New to GuideConnect 1.15, GuideConnect video calling is a more accessible, easy-to-use way for people with sight loss to make video calls.
This article explains how to make a video call with GuideConnect and explores some entertaining things to do on a video call when you can't meet up in person.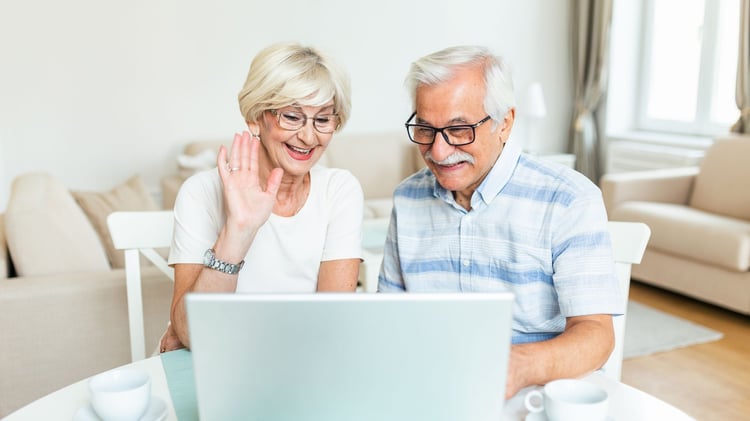 ---
Why you should use GuideConnect Video Calling
Video calling is an excellent way to stay in touch with loved ones. It can be used for practical and social interactions. For many people with sight loss, mainstream video calling services are difficult to use with assistive technology. This means people who are blind or partially sighted face barriers that can make it complicated to use the technology.
To help, the team at Dolphin designed an accessible video calling service. This enables GuideConnect users to make video calls to their friends and family with ease.
As well as being able to contact other GuideConnect users, Dolphin also introduced the Dolphin Video Calling Service for Friends and Family. This is a free service which enables friends and family to make a video call from their own device into GuideConnect. Find out how your friends and family members can set up their Dolphin Account to video call you in GuideConnect:
Video calling for friends and family
---
How to make Video Calls in GuideConnect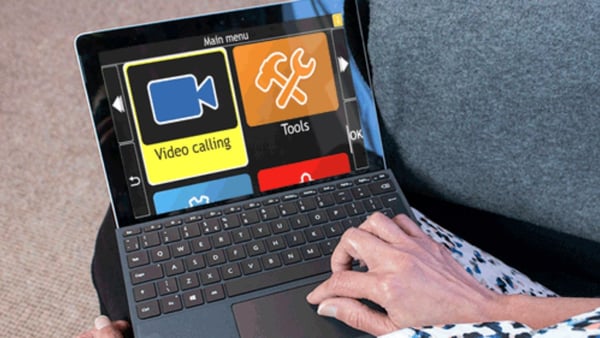 If you're a GuideConnect user, here's a quick guide to GuideConnect Video Calling. These steps are best followed when you first set up and use GuideConnect Video Calling. You won't need to complete all five steps each time.
Ensure you have an email account set up in GuideConnect.

Add your friend's email address to your GuideConnect address book – Ask them to add yours to their Dolphin Video Calling for Friends & Family account, too.

Ensure you're both online at the same time - We recommend you arrange a regular time to call.

Choose your microphone and camera in the Settings menu - From the main menu, choose Settings, then choose Video Calling.

To start your video call - From the main menu, select Video Calling. Then choose Video Call From Address Book. Find and choose your contact's name to start the call.
Tip: If you add your friends to your video calling favourites, GuideConnect will tell you when they are online and available for a call.
For full instructions, please visit the GuideConnect Video Calling pages on the Dolphin website or watch this training video and follow the steps.
Please note: to use the Video Calling feature in GuideConnect, you need to have an active Premium Plan for GuideConnect.
---
A note about webcams and microphones
Make sure you have a camera and a microphone to make a video call, these should be connected to GuideConnect so you can be seen and heard.
If you use GuideConnect on a laptop or tablet, then you're likely to already have a camera and microphone built in. If you use GuideConnect through your TV using the Dolphin remote, or on a desktop computer, you may need to purchase a camera to use video calling. We recommend purchasing a webcam. Most webcams also have their own built-in microphones. If you need to buy a webcam for video calling.
Dolphin can provide you with one which has been tested specifically with GuideConnect. These cost just £30 and you can order one by calling our friendly sales team on 01905 754577.
---
Ways to connect with loved ones using accessible Video Calling
To help you make the most out of this exciting new GuideConnect feature, here are some ideas of ways you can use video calling to connect, communicate and have fun:
1. A good old-fashioned natter - with a modern twist.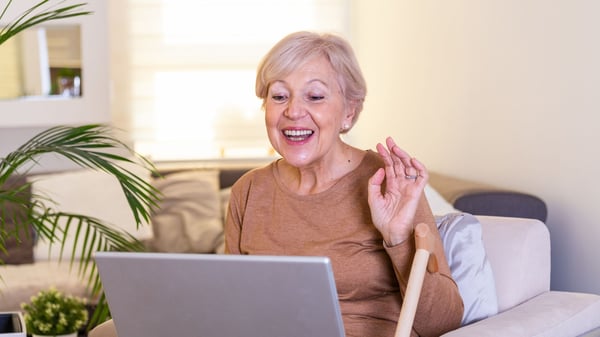 Video calling is a great way to catch up and have a chat when it's not possible, or convenient to meet face-to-face.
We recommend arranging video calls with anyone you miss seeing – from family who would usually pop round for a visit, to friends who live far away. Your beloved grandchildren who are attached to their mobile phones, or even a neighbour who you'd love to visit but can't at the moment.
2. Connect with younger members of your family.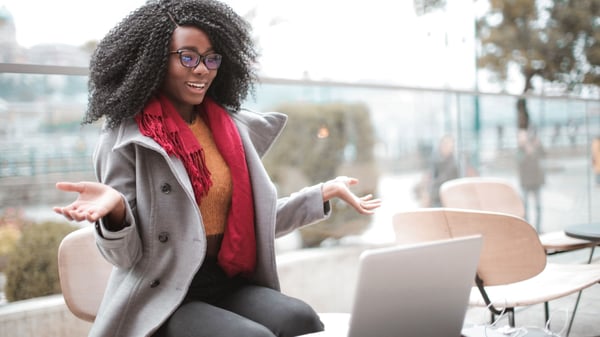 If you have young children in your family or social circle, why not offer to tell them a story at bedtime or have them read to you as part of their school reading practice? It might be a welcome helping hand for busy parents who are home schooling, as well as a joy for you!
If you have older grandchildren, video calls are a great way to connect and stay in touch when you may not be able to see them in person quite so much. Teens are rarely far from their smartphones or computers, and so are often available for a chat. You can check in on them to make sure they're safe and happy, and to let them know that you are too.
Video chats are a lovely way to communicate with members of your family who have moved away to university or live abroad. A regular, arranged chat gives you something to look forward to each week.
Connecting with younger members of your family can also be a great way for you to get advice on technical issues!
3. Get support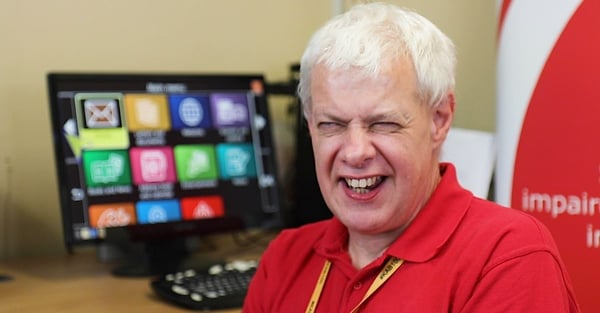 If you're a member of a sight loss society, or visit an organisation that offers support to visually impaired people in your community, encourage them to set up a Dolphin Account to contact you via GuideConnect Video Calling. This is an excellent way for them to stay in touch with you, so you can continue to receive advice, support and guidance while the centres are closed to visitors.
4. Connect with groups of family members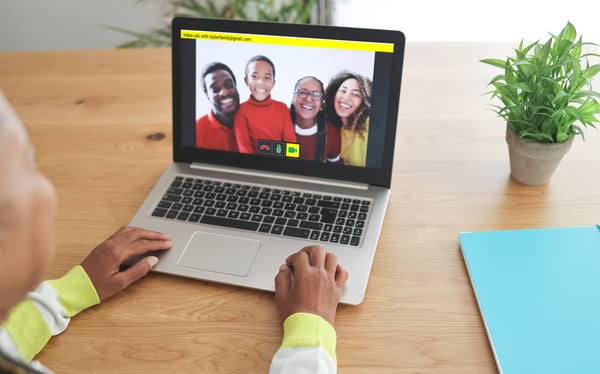 While group chat isn't a feature on GuideConnect Video, it is still possible to speak to more than one person if they are in the same room, or you have more than one person at home that can be seen from your camera.
Use this to take part in family discussions, games or quiz nights, or to catch up with friends who are meeting up. Calling, it is still possible to speak to more than one person if they are in the same room. Whether you have more than one person at home that can be seen from your camera, or you are calling a family group.



5. Finding things and showing your skills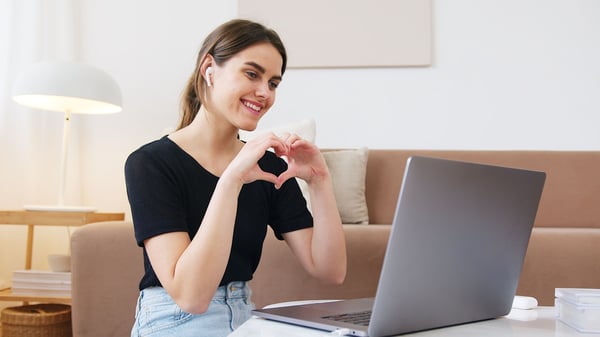 If you are having trouble finding something you've lost around the house due to low vision, your web cam and a family member might be able to help! You can move your webcam around and ask someone to help locate it.
If you're creative and enjoy making or producing artwork, baked goods or other crafts, you can use video calling to show your loved ones the things you've made.
---
We'd love to hear how you use GuideConnect Video Calling, so please comment in the section below to let us know how you get on with the service and if it's made a positive impact on the way you're able to communicate with your friends and family.