We are very happy to welcome Holly Tuke back to the Dolphin Blog, and to hear in her words how accessibility - particularly her educators' positive attitudes towards accessibility and inclusion - made a difference to her educational success.
In addition to her own award-winning blog - Life of a Blind Girl - Holly is a freelance writer, a RNIB radio show host and now works as a social media officer in the charity sector. Before her social media role, Holly worked at a UK university as an Assistive Technology Adviser, so we believe she's particularly qualified to talk about the importance of accessibility and assistive technology in the education sector.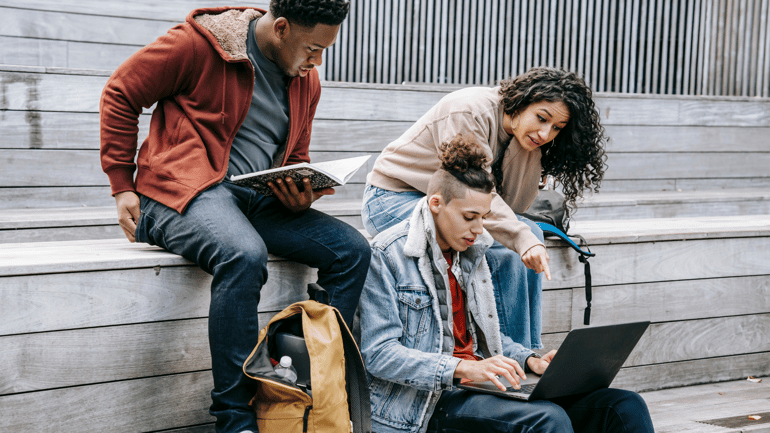 Blind and vision impaired students in education
Everyone should have access to a fulfilling, equal and accessible education experience. Blind and vision impaired students are no different.
We need to do everything we can to encourage and enable blind and vision impaired students to achieve their full potential. I believe that one of the ways we can do this is through accessibility. Accessibility is much more than providing resources in an accessible format – it's equality and inclusion - and not forgetting it's the right thing to do!
Assistive technology is a big part of accessibility. Granted, assistive technology isn't the answer to all problems, but it opens up education for students with a vision impairment. For many, it's a lifeline. And that shouldn't be overlooked.
Looking back at my time in education – both in mainstream school and at university - assistive technology played a vital role. It enabled me to access the same materials (albeit with some adaptions) as my sighted peers.
Assistive tech gave me access to an abundance of resources and was the way I completed all my assignments, coursework and exams. Therefore, to me assistive technology was the gateway to the qualifications that I worked hard to achieve.
Having the assistive technology you need is great, but accessibility is more than technology, it works in conjunction with technology and other things. So while a screen reader enhances experiences in education, accessibility is the overarching factor for academic success.
---
Accessibility in education
For pupils and students with a vision impairment, accessibility is right at the heart of their time in education.
A lot of the experiences from my time in education are made up of memories in regards to accessibility, both the good and the bad.
Using a mixture of braille and assistive technology, I was able to complete a lot of my work independently. However, this was not the case when materials or tasks were not accessible, and unfortunately, there was a distinct lack of accessible resources throughout my time in secondary school.
Sadly, the lack of accessibility is far too common within mainstream education and many other areas of our lives. If my time in education were a painting, the lack of accessibility would fill a large proportion of the canvas. As much as I feel frustrated when I reflect on the lack of accessibility throughout my educational journey, I do hope that by talking about it goes some way to ensure that education is accessible for everyone.
Could you open up a conversation about accessibility at your local school, your child's school or the school you work at? How could you improve accessibility for your current and future students?
---
Providing accessible educational material
Some of the most simple adaptions and adjustments make a world of difference. For me, this included having materials in accessible formats. Having the same information as my classmates in accessible formats meant that it was equal, fair and inclusive.
For a student like me with a vision impairment, providing information in Word documents and braille helps. Other things such as adapting diagrams (whether to a written description or tactile form) means they can complete their school work independently.
Although I was armed with the power of braille and my screen reader, without accessible resources, that power was diminished.
It is vital to consider accessibility from every aspect, right from the planning stage. If you work within academia, think about accessibility from every angle.
---
Everyone has a role to play in accessibility
A common occurrence - one that that cropped up time and time again throughout my time in mainstream education - was the lack of ownership when it came to thinking about accessibility.
The fact is, everyone has a role to play. It's important to think about how you can enable students and pupils to succeed. If a task needs adapting then that's okay. If you have to take a slightly different route then that's fine too, but it should never be passed off or dismissed.
There were, of course, teachers that did everything they could to ensure that every aspect of my time in education was accessible. There were a few things they did that shone out from the rest:
They would treat me like every other pupil and show my vision impairment wasn't an inconvenience or a barrier to them.
They would talk to me and my teaching assistants and ask questions such as "how can we make this task accessible?" They would also take note of any feedback we would give them. Consequently, those were the teachers that I felt comfortable giving this sort of feedback to.
These were the teachers that enabled me to achieve my full potential. They would treat me like anyone else and encouraged me to learn. That encouragement helped me take the next step onto university.
---
Accessible resources at university
By the time I went to university, I was fully equipped in advocating for myself and speaking up. I was able to admit when resources weren't accessible or when I thought that something should be done differently. Like everything, there were times when resources weren't accessible, but most of the time this was few and far between.
The academics' attitudes helped such issues get resolved quickly: they would speak to me directly, they would spend time making resources accessible and they'd ask questions. I didn't feel like an inconvenience or a burden for wanting and needing things to be accessible. Thankfully, accessibility was at the heart of my time at university.
Of course, there were changes that needed to be implemented and it wasn't always plain sailing, but I like to think that it was something they would form over time.
University work involves a lot of reading and research. Unfortunately, many of the resources available aren't always accessible for blind and vision impaired students, which can create extra stress and worry.
It is vital that universities have strategies to make these areas accessible, and understand the needs of blind and vision impaired students, as well as how any issues should be addressed.
---
Accessibility after graduation
When I graduated university, I went onto work as an assistive technology adviser at the university I studied at. I did that role for three and a half years and so I've seen accessibility from both perspectives; as a student and a member of staff.
As I had first hand experience of the difference that it can make, I tried my best to strive for an accessible, equal and inclusive education for students
Research suggests that around one in 4 young people aged 16 to 25 who have a vision impairment are students. Surely that tells us that we need to do everything we can to make the educational experience accessible for all?
If you're a teacher, lecturer or work within academia, please remember no one expects you to know everything about making your work accessible. It's how you approach accessibility that makes the difference.
---
Dolphin Assistive Technology for Education
Share the responsibility for accessibility with EasyConverter Express. This simple and cost-effective program can be used by every member of staff to turn any Microsoft Word document into a range of accessible formats - including large print, braille and audio files - in just three clicks.
Schools can purchase a complete assistive technology kit for the classroom, suitable for learners with low vision. SuperNova Connect & Learn enables students to scan and annotate printed worksheets, to connect and view digital whiteboards and to read learning material with magnified views, audio or with colour schemes customised to their sight. The Connect & Learn Kit has everything a student with low vision needs to work independently in class. Book a demo to find out more and take advantage of the additional home licence currently on offer.
For older students who are blind or partially sighted, the SuperNova range of screen magnifiers and screen readers helps with studies and communication, so each student can reach their full potential.
---
Webinars for Education Professionals
We hold regular webinars for education professionals that advise and demonstrate how students with visual impairments really benefit from the Dolphin EasyReader App in conjunction with the RNIB Bookshare Education Collection. The webinar is free, as is the app and access to the RNIB collection.
Find out more about the Textbooks That Talk Webinar
---
Other Dolphin blogs you'll enjoy reading