Parents, teachers and children around the globe are celebrating World Book Day!
Designated by UNESCO as a worldwide celebration of books and reading, World Book Day is marked in over 100 countries around the globe. This year, the theme of World Book Day centres around reading for pleasure. Urging parents, carers and teachers to encourage children read for pleasure, both in and out of school.
Reading for pleasure is not just a 'nice to have', it is the single biggest indicator of a child's future success – more than their family circumstances, their parents' educational background or their income.
It's clear that reading for pleasure is important, but what happens when a child finds it difficult, or impossible to read a 'traditional' printed book?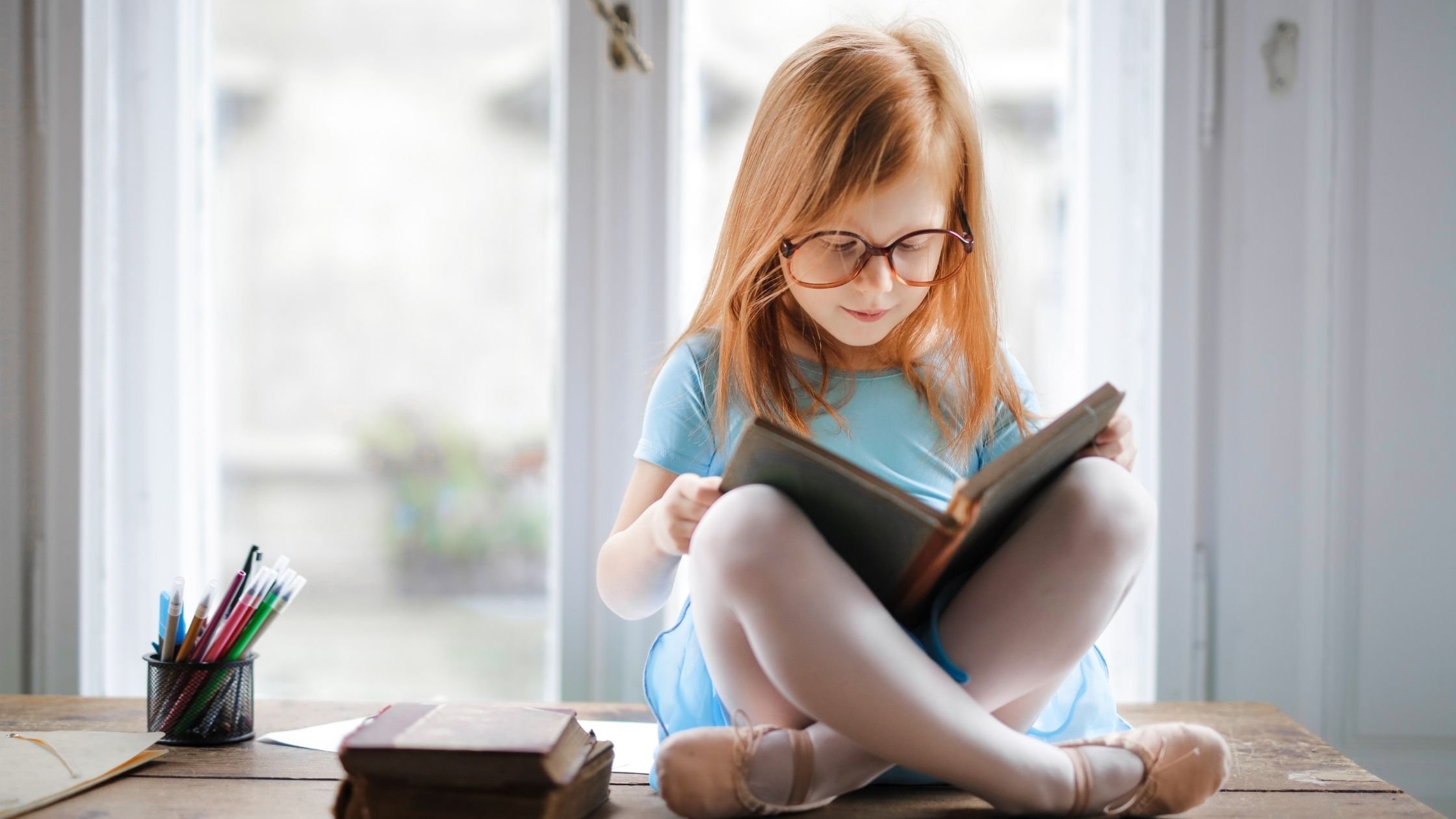 What is accessible reading?
Accessibility involves providing young people with visual impairments, dyslexia or other print impairments with a range of options for reading and accessing books. This could mean providing books and other reading material in braille, large print or audio formats, or providing technology to read on a screen.

Who benefits from accessible reading?
There are many different reasons why a person is print impaired and so will find accessible reading material beneficial.
Print impairments include vision impairments, dyslexia, autism or other neurodivergent conditions. It may also include other disabilities or conditions which cause dexterity issues that could make holding a traditional paper book, turning pages or reading the printed word difficult.
What is a print impairment?
A print impairment – sometimes known as a print disability - is defined by Vision Australia as 'a difficulty or inability to read printed materials due to a perceptual, physical or visual disability'.
What helps people with print impairments read?
It's easier than you might think to provide many different options that reflect the different needs and preferences of the reader. Free technology and apps are available now, along with libraries of accessible books which are available – free – to the readers who might benefit from them.
We invite you to explore EasyReader App and accessible libraries – to find out how they might make reading more accessible to you, or someone you care about.
This might include providing books in an audible format, for children who prefer to listen to stories, or providing the means to read with enlarged text. A dyslexia friendly font, a particular colour scheme or a braille version might help others access and read the books they want to read.


The importance of accessible reading material
Making stories available to everyone, and making it possible and comfortable to read them is what makes reading accessible.
When you make it possible for a person, particularly a child, to read a book and enjoy a story, it opens a world of wonder and opportunity. We believe that this should include all children, not only the children who can access reading on paper.
How can I make reading more accessible?
EasyReader App is a brilliant place to start. It provides free access to different ways of reading books, and connects the reader to accessible versions of books from libraries all around the world.
These libraries and collections – which include books for learning as well as leisure – are available in different accessible formats, so they can be read visually with different colour, size and font settings. Or, they can be read audibly, as narrated audiobooks or text-to-speech books. With EasyReader App the reader can also choose to read both audibly and visually at the same time, to read along with the spoken word as it's highlighted on the screen. Or connect to an electronic braille display to read braille.
EasyReader App is available free on a wide range of devices. There is also an optional subscription to EasyReader Premium, which unlocks additional features for educational use.
You can find out more about the benefits of accessible reading for education and how accessible libraries help, in our guest blog from RNIB Bookshare How accessible books enhance learning.


How do I join an accessible library?
As with any library, you can complete simple membership application form online.
Some accessible libraries may also ask for further information, such as a diagnosis of dyslexia or visual impairment, which you can provide as part of the application or they may as for further information in follow-up communications.
You can find a list of Dolphin EasyReader library partners on our website, or link to their membership forms through the EasyReader App when it's on your device.
Download the free EasyReader App to connect with libraries, listen to audiobooks, read on screen, or a combination of the two! Customisable text and audio settings to help make the stories accessible and more comfortable to read.
Find out what some of our library partners, Calibre Audio and RNIB Bookshare are doing for World Book Day.
The World Book Day definition of Reading for Pleasure is "feeling sense of satisfaction or pleasure by engaging with chosen reading material in their free time".
---
Common questions about accessible reading:
How do blind children read books?
There are many different ways that a person who is blind or partially sighted can read.
Audio Books
A reader can use an app or a device that plays audiobooks. This is where a book is read aloud by a narrator and recorded, this is played back by the reader.
Text to Speech
A reader can also listen to books as 'text to speech' (TTS). This takes the text from a digital version of the book, then it's read aloud with synthetic speech. This has the benefit of a range of different voices to choose from. The reader can also speed up or slow down the reading speed, as well as adjust the volume.
For people that read on EasyReader App, there is also an option to read along with the TTS on screen – where each word and line is highlighted as it's read aloud.
Braille
Some people who are blind learn to read braille. This is a tactile reading system made up of a series of raised dots, which the reader feels with their fingertips. It can be printed onto paper and read as a book, or read using an electronic 'braille reader' which has pins that move up and down to form the braille cells.
Find out more about braille, how it works and how it's used in our blog Brilliant Things About Braille
You can also read the experiences of a braille user, in the Dolphin blog 'Growing Up with Braille'. This blog also explores how braille can be used to read aloud to others, and its importance to literacy in the blind community.


How do children with dyslexia read books?
For children who are dyslexic, reading a traditional paper book can be difficult, slow and even impossible. This can hold children back academically and affect their learning outcomes.
There are ways technology such as EasyReader App can help make reading more accessible and more comfortable for the reader who has dyslexia.
These include using dyslexia-friendly fonts, larger line or letter spacing, different colour backgrounds or different colour text (or a mixture of the two). It might also include providing an audio read-along – where text is highlighted on a screen as it's read aloud by the audio – so the reader can follow where they are on the page.
We are becoming more aware as a community of neurodiversity and its importance to the learning outcomes of children. While we still have a long way to go to ensure every child has an equal learning experience - one that reflects their strengths and their learning style. Using technology such as EasyReader Premium for Education means you can provide different ways to read, and access to libraries for eligible students. This can only benefit the neurodiverse classroom - one which teaches neurodivergent as well as neurotypical children.


Does listening to audiobooks count as reading?
Of course! Audiobooks are listed on the reading list for World Book Day, and are a recognised means of reading. Making books accessible is very important when fostering a love of reading. So, saying audiobooks don't count as reading discounts the experience of children who learn audibly, or aren't able to read the printed word – perhaps due to a visual impairment or neurodivergence.
Bringing stories to life with technology and audiobooks can grow a love of books, stories and reading. It helps children learn and retain information in ways other than visual reading, and it also means children can enjoy books and stories their own way. Read more about different learning styles and how different ways of reading can make your classroom more inclusive


Does braille count as reading?
Absolutely! Braille is just one way people with visual impairments might read, and it is shown to improve literacy, study and job prospects for people who are blind.
Braille is a tactile way of reading, which means you read by touch. The same letters and words are translated into braille – a series of raised dots on a page or electronic braille reader – which are then felt and read by the reader.
It's useful to know that according to the RNIB, only around 7% of people who are registered blind or partially sighted use braille in the UK. This might indicate a need for more braille literacy – and providing more opportunities to read braille in school and everyday life is an important part of this. It might also indicate a need for more braille teaching and learning.
Read more about braille in our blog Ten brilliant things about braille
---
If you would like to find out more about accessible reading and accessible libraries, or learn how you can make the reading material in your home, classroom or workplace accessible to people who are blind, partially sighted, dyslexic or otherwise print impaired, visit the EasyReader section on the Dolphin website.
You can also read all the other blogs about accessible reading on the Dolphin Blog.