As social media use increases in use, both personally and professionally, it's important to recognise that your followers - and potential followers - access content in different ways.
For people who are visually impaired, it can be frustrating when the whole message of your posts aren't communicated well, as it renders your posts inaccessible.
There are some really easy things social content creators can do to make their posts more accessible to people who are blind or partially sighted, as well as other groups of disabled people.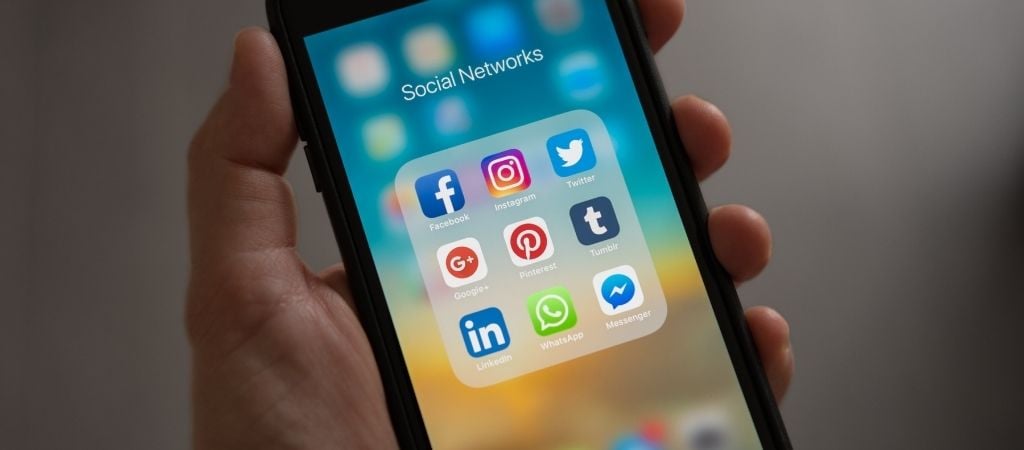 The benefits of accessible social media content
The World Health Organisation reports that there are over 2.2 billion people in the world with a vision impairment, and in the UK alone. Although the majority of sight loss is age-related, it doesn't only affect older people. The RNIB states there are 25,000 young people under 16 who are registered blind or partially sighted. That's a lot of potential followers, and certainly a sizeable chunk of the population who might benefit from what you have to say, now and in the future, if they can access it.
Many people with visual impairments use a Screen Magnifier, specialist Screen Reader or accessibility features on their phone, tablet or computer. As the name suggests, a screen reader takes the available text and other information on a computer screen and relays it audibly to the user. This is the way many people with sight loss read text, navigate items on screen - images, captions, hashtags, comments buttons, menus etc - access the internet and use their social accounts.
So, whether you create content for personal or professional use, it's important to make your content accessible.
You may do this to be inclusive, welcoming and considerate of people who have different ways of accessing information, or to consciously attract and keep a more diverse range of followers.
---
Easy ways to make your social media posts more accessible
You or your social media team can make your social posts accessible to more people with these simple steps:
Add Alt Text to images
Alt Text is something which is brought up by screen reader users again and again. It's really simple to do and a really effective way to improve the accessibility of your posts on social media channels such as Twitter, Facebook and Linked In. Adding Alt Text describes the images in your posts to people who are visually impaired and use a screen reader.
Your Alt Tag should describe the image, particularly the important elements of it. This might include a description of an outfit someone in the photo is wearing, or people's expressions. It might describe a scene, a photographic technique used or a description of graphics and logos.
There are no hard and fast rules to Alt Tag image descriptions, but try to convey the important and relevant parts of the image to give a better idea of what the image includes.
If you're designing a website, it's also important that you use Alt Tags to help people navigate your website and promote your brand image.
---
Hashtags
When you make hashtags accessible to screen readers, it also benefits neurodivergent followers. To make your hashtags – especially those of two words or more – accessible, ensure that the first letter of each word is capitalised #LikeThis
When you treat your hashtags in this way – sometimes known as camelCase or PascalCase - it means screen reader audio will identify and read the words independently, rather than as a jumble.
This way you ensure screen reader users understand clearly what your hashtag is saying – and it might also help stop any embarrassing hashtag faux pas – you'll need to check the internet for hilarious hashtag fails, they're far too rude to write here!
---
Emoji's
When you're writing posts with accessibility in mind, it's best to keep emoji's to a minimum, or don't use them at all.
A screen reader will announce each and every emoji in turn, so a line of dancing ladies and smiley faces can move from conveying excitement to annoying pretty quickly!
---
Colour Contrast
It's important when producing social posts that you take into account the colour and tone of your graphical images and text, and consider how they contrast with one another and the background.
Use strongly contrasting colours to distinguish text and graphical elements from the background. This makes text readable and means images displayed can be viewed as they are intended.
Colour contrast can affect ability to view or read information in graphical posts and images on social media. This helps make your content accessible for people with visual impairments including colour vision deficiency, and makes it a better, more accessible experience for people with dyslexia.
Colour vision deficiency is quite common. Often referred to as 'colour blind' (though it's extremely rare to see no colour at all), and the NHS state that around one in twelve men and one in every 200 women have some form of colour vision deficiency.
This can have the effect of colours appearing duller, or finding it difficult to tell the differences between colour groups such as red and green (most common), red and black, purples or rarely blue and yellow.
It's important to consider the colours on your post – as well as your brand colours, graphics, text and background. If in doubt, the classic black and white is a great place to start!
For further reading, the Web Content Accessibility Guidelines (WCAG) is an excellent resource to help you choosing accessible colour schemes.
---
Images
Where possible, avoid using text in images. A screen reader can't read the words in an image, it only identifies that an image is present. This means any text on images will be missed out by people who are blind and using a screen reader.
If you do have to use text as part of an image, ensure that you also add it to the Alt Text, this way you ensure screen reader users get the whole picture.
---
Videos
If your video is long, use subtitles and a transcript for full accessibility. Subtitles make content accessible to deaf people. They're easy to auto-generate on most social platforms.
Although people without sight can of course listen to the audio on your video content, providing a transcript of your video can help further improve accessibility for blind people. A transcript enables people with visual impairments to quickly 'read' and navigate your video content with their screen reader. This can save a lot of time.
When you're writing a transcript, make use of Header Tags and Text Links to help the reader easily navigate the transcript to find the most relevant parts.
Video transcripts have an additional benefit for content creators. When you host video transcripts on your website - particularly if you use relevant keywords throughout your script - this also benefits your SEO traffic, so your content is more easily visible to Google can help improve your search engine listings.
---
Podcasts
As with video, hosting transcripts on your website of the podcasts you record can help Screen Reader users navigate your content to find the information they particularly need.
It also helps deaf people access the content you produce and may also benefit the podcast host in terms of improved SEO ranking.
---
Gifs
They're not really accessible for screen reader users, but to be fully inclusive, when you use Gifs in any content, try to add Alt Text or a description of the content underneath. This should convey the information or emotion you're trying to communicate visually.
---
Live Stories
When you produce live stories on Instagram, Facebook and other channels – please be aware that screen readers don't pick up text on still images.

A video with sound is best for making content accessible to people with visual impairments. Though we recommend you provide subtitles too (these can be auto-generated) for better accessibility to more people.
---
Instagram Advice
A little note on accessibility for people with visual impairments on Instagram.
Yes, people with visual impairments do use Instagram and no, it's not currently a great experience in most cases. Since there's no functionality yet for Alt Text, add an image description underneath your caption and above any hashtag list.

To see this done well, check out the RNIB Instagram account.
---
Choosing the best the social channels for your content
While there are plenty of social media channels and apps out there to try - whether you're building content personally, or for your business or organisation. Trends come and go, so it's best to pick the platforms which suit your content and your audience. Whichever you choose, find out how to implement the accessibility features to make it an inclusive experience.
While Facebook, Instagram and Twitter are still the dominant social media platforms around the world, TikTok has been a runaway success, particularly during periods of lockdown in 2020 and 2021, recently overtaking YouTube in popularity, and SnapChat (which prefers to call itself a 'creative tool' rather than a social media app), continues to grow.
Some of these apps and platforms are more accessible than others to people with visual impairments and other accessibility requirements, so choose wisely and implement the accessibility advice given here where you can.
You can interact with Dolphin on Facebook, Twitter and Linked In
We would love to hear whether there are other recommendations you have to make our social accounts more accessible, please do get in touch.
---
Try Something New
Clubhouse
The interesting new kid on the block is Clubhouse. A social networking app based on audio-chat.
The company describes itself as "a new type of social product based on voice. [It] allows people everywhere to talk, tell stories, develop ideas, deepen friendships and meet interesting new people around the world".
Clubhouse is currently an exclusive - invite only – club, where audio is live-streamed to members based on their chosen topics of interest. Likened by some to a live, exclusive podcast, but once a conversation is over and the conversation room is closed, no recordings are available.
The Guardian describe it as 'part talkback radio, part conference call, part Houseparty' where 'the conversation room is like a conference call, but with some people on the call talking, and most listening in.
It'll be interesting to see how this app is received and used by people with visual impairments in the future.
In the meantime, keep making your content accessible and inclusive by following the practical tips and advice above, so more of your followers enjoy it.
---
Other Blogs you might be interested in
6 ways to make digital content accessible >
Accessible Video Calling Has Arrived >
6 tips for making word processing documents more accessible >
---

About the SuperNova Range
Choose SuperNova for magnification and screen reading you can rely on.
The SuperNova range of assistive technology empowers people who are blind or partially sighted to succeed at work, at home and in education.
SuperNova delivers a combination of magnification, speech and braille for Windows tablets, laptops and desktop PCs.
SuperNova suits many different types of visual impairment and is available in three editions. These enable users to choose a suitable combination of magnification, colours, speech and braille to suit their vision.
Dolphin also offers SuperNova packages that include SuperNova software set up on a laptop or desktop PC. These are set up, tested, delivered and are ready to use straight from the box.